A few years back, social listening tools were a scrappy thing marketers leveraged to get a leg up on trending topics their audience engaged with.
Today, it's a billion dollar industry and an integral part of a solid marketing strategy—with over 80% of marketers using more than one social listening tool and a third of them investing more than $100K into the capabilities.
And while there's no shortage of options, not all social listening tools are created equal.
More on that later. In this blog, we're going to cover 3 main things:
1. The 11 best social listening tools of 2023
Brandwatch: Brandwatch's tagline touts they are the #1 consumer intelligence platform. Their sophisticated platform allows you to search, segment, analyze, and act on historical and real-time social conversations using the power of AI.
Digimind: Social insights that focus on real-time monitoring of campaign engagement, optimization and ROI.
Talkwalker: Talkwalker uses AI to help you listen and better predict changes in consumer behavior for "speeding up the time it takes for you to find changes and adapt".
NetBase Quid: A consumer market intelligence platform that analyzes trends for competitive intelligence, technology solution, and crisis management.
Meltwater: Meltwater is one of the OG social listening and management platforms, founded in 2001. They've expanded their offering over the years creating a comprehensive social insight hub for marketers.
Buzzsumo: A comprehensive tool that integrates social listening, content discovery and research, and influencer ID all in one platform.
Brand24: Brand24 doesn't just monitor social buzz, but racks all public sources, including news, blogs, videos, forums, podcasts, reviews, and more.
Agorapulse: Their social media monitoring's tagline is "social listening without the overload", and they deliver by easily tracking social conversations about both your industry and brand, and allowing you to quickly take action.
Sprinklr: A unified CXM (customer-experience management) platform that takes AI powered customer insights across social channels to help you provide a more seamless, personalized customer experience.
Synthesio: AI powered social listening and trend detection platform that tracks real-time conversations across the world and lets users visualize and analyze them effectively.
Sprout Social: A powerful, trustworthy social media management platform that's been around for over a decade. Their social listening tools provides content suggestions based on relevant and trending topics, and helps you to tap into social conversations to strengthen your social strategy.
2. The Difference Between Social Listening And Social Audience Insights
There's no question that social listening is an essential part of any marketing strategy as the long list of successful tools above indicates. But when combined with a social audience insights platform, marketers not only gain the ability to view social engagement and behavior, but understand the individuals behind the social engagement. So what are social audience insights? Let's dive in.
Social Audience Insights: A holistic view of an audience's declared interests, affinities, and preferences—across the major social platforms they frequent.
[Psst! For a complete breakdown of social listening vs. social audience insights check this out.]
While social listening records an audience's social engagement, social audience insights captures who that audience is, giving marketers the ability to uniquely:
Discover Self-Declared Audience Insights: Your audience members reveal a lot on their social channels. With a social audience insights platform, you can tap into that self-declared data to understand your audiences' passions, interests, brand affinities, and more
Gain Holistic Customer Data: Get a 360-degree view of current customers by overlaying rich social audience insights on top of your first-party data
Uncover Any Audience: Discover new audiences at scale by better understanding your existing customer's unique attributes
Run Competitor Analyses: Understand key insights about your competitors' audiences so that you can identify new marketing opportunities and create highly targeted campaigns
Fuel Consumer Research: Enrich your market research, panel and survey data with unique social audience insights
Validate Influencer Partnerships: Ensure your audience engages with and has an affinity for your recommended influencer without relying solely on vanity metrics and preconceived notions
Only brands who leverage both social listening and social audience insights truly capture the key insights needed to know who their audience is so they can connect with them on a deeper level.
3. The Combined Power of Integrating Silhouette™ With Your Social Listening Platform
Here's where StatSocial's award winning social audience insights platform, Silhouette comes into play.
Silhouette integrates directly with top social listening tools, so that can both uncover who your audience is and what they're talking about. And here's how it works:
1. Gain Insights on Specific Social Audiences
In your social listening platform you can identify any audience segment engaging around a certain topic or hashtag, or even the social following of a specific account. The Twitter IDs of that audience are exported from your social listening platform into Silhouette, matched to verified individuals, where you can discover their unique interests, affinities, favorite influencers and more.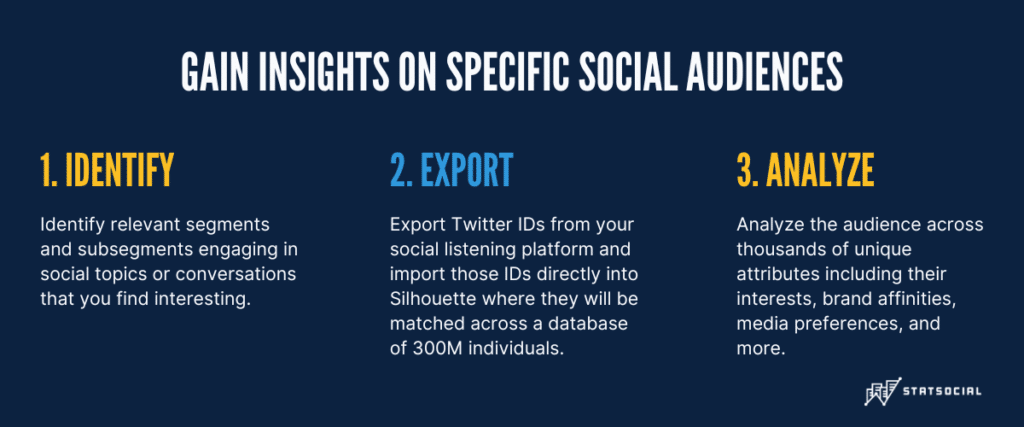 How Brands are able to gain insights across any social audience in Silhouette
Challenge: An apparel brand is interested in identifying and targeting individuals who are engaging with negative press and conversation about their new, recently launched running shoe so they can respond in the most effective way.
Solution: The brand leverages their social monitoring tool to track the conversations around the launch and then exports the Twitter IDs of the impacted audience for upload directly into Silhouette where they can conduct a deeper audience analysis.
Result: Within Silhouette's Insights Reports, the brand is able to gain an understanding of the interests, passions, and preferences of the impacted audience to inform where and how to best engage them with tailored counter-messaging to combat
the negative press.
2. Create Social Panels for Monitoring
In Silhouette you can create "Social Panels." Social panels are custom audiences based on the parameters you define (e.g. key demographics, interests, affinities, job titles, etc.). You can then upload the social panel to your social listening tool for ongoing monitoring.
Social panels ensure you always have a pulse on your target audience's social activity so that you can validate your campaigns and optimize them for success.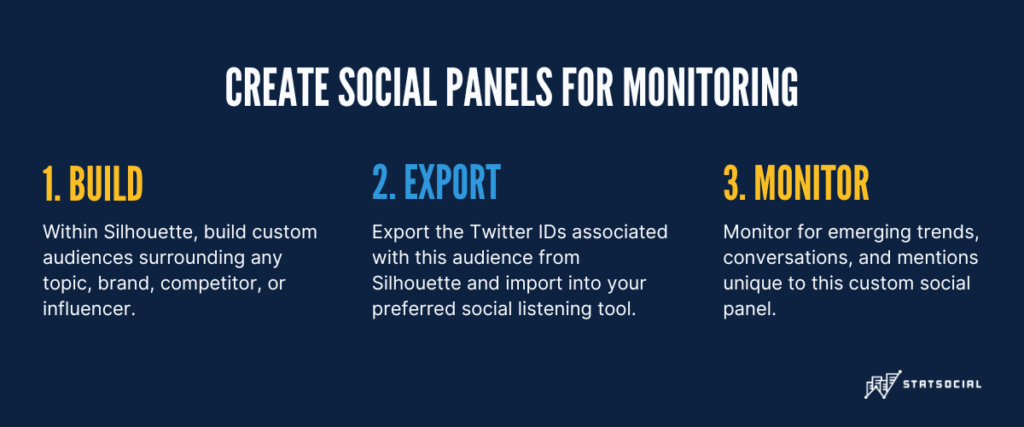 How brands can create social panels in Silhouette for monitoring
Challenge: An alcohol brand is looking to understand trending topics and conversations relevant to their own audience as well as those with an affinity for their top competitor.
Solution: The brand builds an audience of their own followers as well as followers of their top competitor, then exports the Twitter IDs for each audience to their social listening platform for ongoing monitoring.
Result: The alcohol brand determines that their own audience is engaged in conversations around travel and leisure, whereas their competitor's audience is discussing more health-related topics. The brand then decides to start more aggressively marketing their lower calorie drink options in order to win over market share.
Social Listening + Social Audience Insights: The Competitive Advantage You Need
It's tough out there for brands. Consumers have a seemingly endless amount of choices, and it can often feel difficult to break through and connect with your target audience.
Combining the power of social listening with social audience insights helps you accomplish this by really knowing who your audience members are and what drives them.
The most successful brands know how to deliver the seamless, personalized interactions consumers demand.