It's hard to believe another year has come and gone. Without sounding too cliché, time really did fly by in 2021. But we believe it was time well spent—gathering feedback from our users and getting to work making some pretty significant updates to the Silhouette platform.
Our goal at StatSocial is to help our clients leverage powerful social audience insights to better understand their customers, so that they can deepen existing relationships and create meaningful connections with their target audience.
Our Silhouette platform has helped many Fortune 100 clients achieve this mission with our industry-leading social audience data and capabilities. And now, we've made it a whole lot easier to accomplish this. Let's take a look at all the enhancements you can take advantage of in the latest release of Silhouette:
1. Integrated UI
Silhouette's latest release offers a unified interface for you to easily create, manage, analyze, and deliver your audience segments to third-party systems, all from a single platform. By moving Audience Builder & Analytics under one roof, clients can more effectively take action on our robust dataset.
Other feature enhancements include:
Audience edits: More easily edit existing audience segments without the need for cloning
Segment sharing: Seamlessly share audience segments with any key stakeholders, groups, or your broader organization
UI enhancement: Navigate the platform more easily than before by taking advantage of our new, more user-friendly interface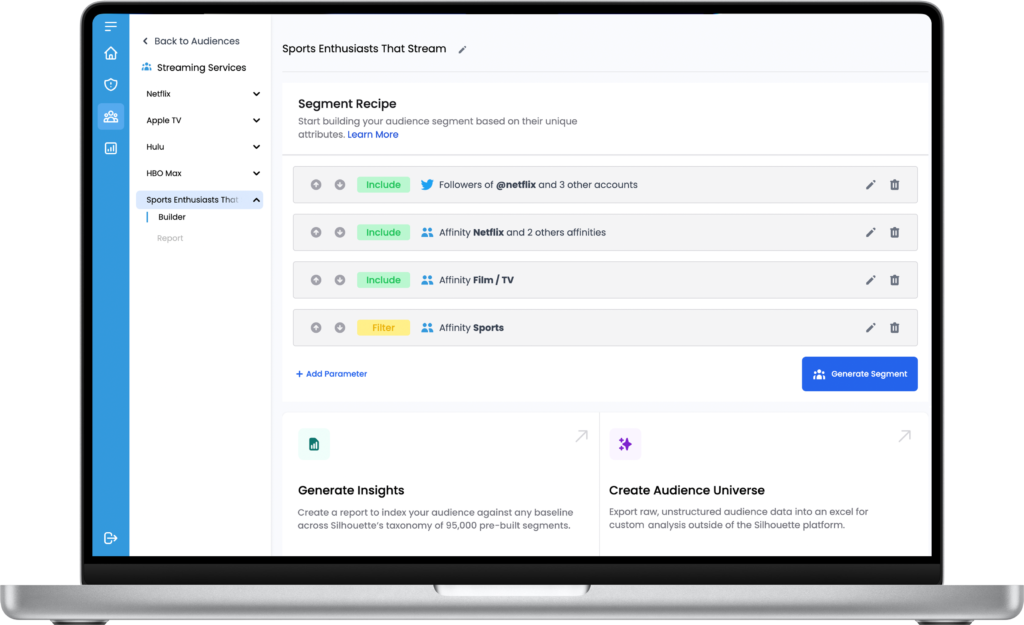 2. Enhanced Reporting
The newest version of the platform comes with a complete overhaul to our reporting functionality and interface so that you can easily draw actionable insights, compare audiences, and limit the need to maneuver data outside of Silhouette.
Feature updates include:
Audience comparisons: Compare up to 5 audiences against one another using color coding and enhanced graphs, without the need for excel crosstabs
Custom filters: Refine your insights reports in real time by way of a min/max percentage overlap and/or a min/max index
Cross tab exports: Reduce the need for manual work required for analysis when cross tabs are needed through easy export into appropriate formats
Daily baseline refreshes: Leverage the most up-to-date data to index your audience against as all standard baselines (USA, Global, UK, Canada, USA males/females) are now updated on a daily basis
UI enhancements: More easily interpret audience data with new report visualizations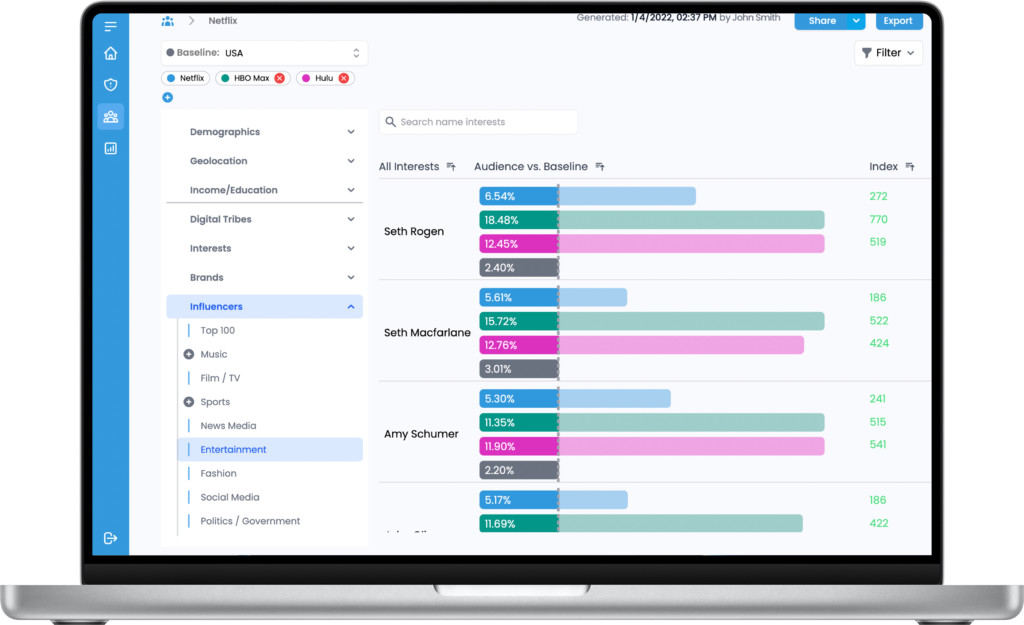 3. Taxonomy Updates
In addition to expanding on our already comprehensive taxonomy, we have also added real-time taxonomy updates to provide you with a more efficient way to create and analyze custom audiences at scale. And just around the corner, you will have the ability to create custom taxonomies exclusive to your brand.
Feature updates include:
Expanded taxonomy: Take advantage of over 95,000 proprietary segments for audience creation and analysis
Real-time updates: Gain the insights you need and rely on the most current data with StatSocial's ability to make real-time taxonomy updates
4. Next-level Market Research
Our recent partnership with Cint combines our database of 300 million verified individuals with their 155 million panelists, enabling users to target niche audiences, launch surveys on the fly, and expand panel insights with social affinity data.
Feature updates include:
Cint ID Mapping: Through Silhouette's direct integration with Cint, identify existing panel members to target for surveys
Data appends: Append survey and panel data with over 95,000 audience attributes including passions, interests, preferred media, and more
We're proud to be ushering in 2022 by creating a more seamless experience for our users so that they can take audience insights to the next level. What are you most interested in doing with audience insights this year? Let's chat.