Social panels are a relatively new capability that combines the power of social audience insight tools and social listening. Used together, these tools allow marketing professionals to do some pretty powerful things. So what are social panels and should you start leveraging them? Let's dive in.
Social panels or social media panels allow you to tap into real-time social conversations, opinions and engagement among a specific group of social users, gaining valuable insights to inform current and future campaigns.
Social panels can provide a wealth of knowledge that will transform your entire marketing strategy and help build deeper connections with your audience. Here are just a few examples of how marketing and comms professionals leverage social panels:
Brand perception and consumer sentiment
Consumer research, including competitor audiences
Opinions and conversation around a specific topic
Topics an influencer's audience is engaging with
Luckily, creating social panels and gaining insights across any social audience is straightforward and easy to execute–let's explore.
Creating highly custom social panels
Social panels are easy to create, you just need the right tools–a social audience insights and social listening platform. You can leverage a social audience insights platform like StatSocial's Silhouette platform to either:
Create highly custom social panels to be deployed across your social listening tool
Gain greater insights on specific social audiences
Silhouette integrates directly with top social listening tools, so that you can uncover who your audience is and what they're talking about.
How you can create social panels in Silhouette for monitoring
In Silhouette, you can create social panels of any custom audience based on the parameters you define (e.g. key demographics, interests, affinities, job titles, etc.). You can then upload the social panel to your social listening tool for ongoing monitoring.
Social panels ensure you always have a pulse on your target audience's social activity so that you can validate your campaigns and optimize them for success. And here's how it works: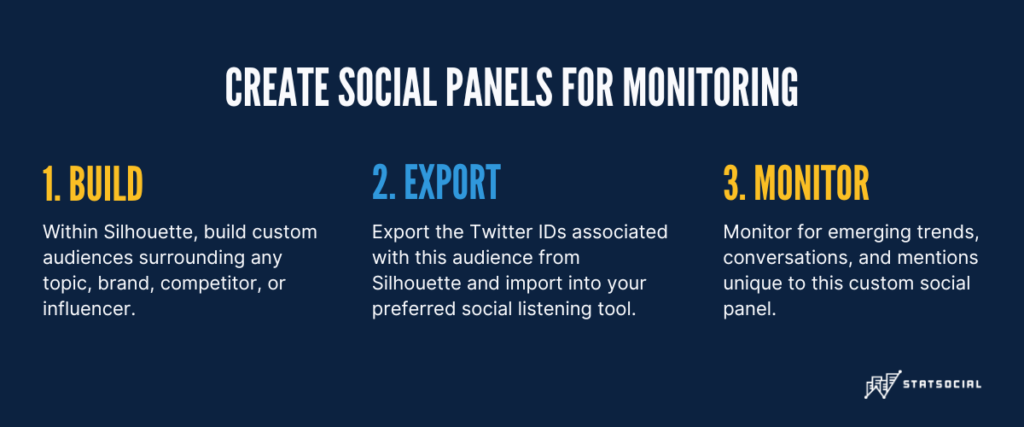 Example of how a brand can create social panels in Silhouette for monitoring
Challenge: An alcohol brand is looking to understand trending topics and conversations relevant to their own audience as well as those with an affinity for their top competitor.
Solution: The brand builds an audience of their own followers as well as followers of their top competitor, then exports the Twitter IDs for each audience to their social listening platform for ongoing monitoring.
Result: The alcohol brand determines that their own audience is engaged in conversations around travel and leisure, whereas their competitor's audience is discussing more health-related topics. The brand then decides to start more aggressively marketing their lower calorie drink options in order to win over market share.
How you can gain insights on specific social audiences
In your social listening platform you can identify any audience segment engaging around a certain topic or hashtag, or even the social following of a specific account. The Twitter IDs of that audience are exported from your social listening platform into Silhouette, matched to verified individuals, where you can discover their unique interests, affinities, favorite influencers and more. And here's how it works: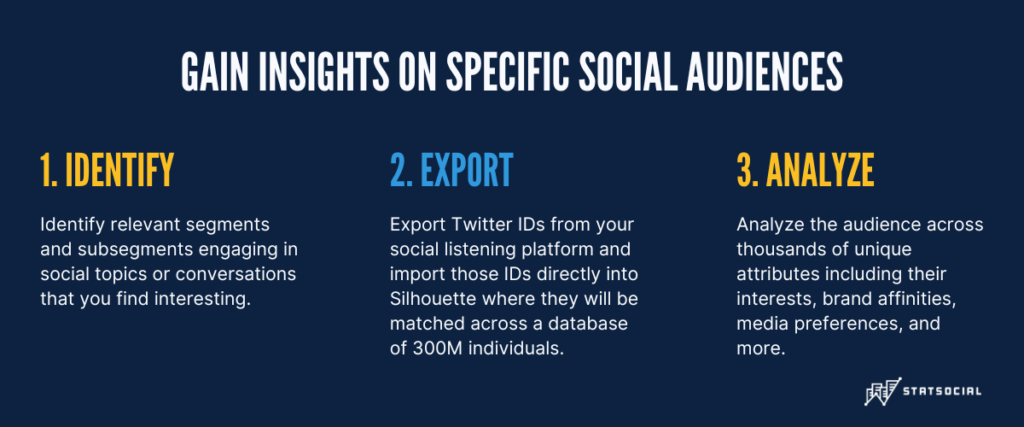 Example of how a brand can gain insights across any social audience in Silhouette
Challenge: An apparel brand is interested in identifying and targeting individuals who are engaging with negative press and conversation about their new, recently launched running shoe so they can respond in the most effective way.
Solution: The brand leverages their social monitoring tool to track the conversations around the launch and then exports the Twitter IDs of the impacted audience for upload directly into Silhouette where they can conduct a deeper audience analysis.
Result: Within Silhouette's Insights Reports, the brand is able to gain an understanding of the interests, passions, and preferences of the impacted audience to inform where and how to best engage them with tailored counter-messaging to combat the negative press.
Social Listening + Social Audience Insights: The Competitive Advantage You Need
It's tough out there for brands. Consumers have a seemingly endless amount of choices, and it can often feel difficult to break through and connect with your target audience. Combining the power of social listening with social audience insights helps you accomplish this by really knowing who your audience members are and what drives them.
The most successful brands know how to deliver the seamless, personalized interactions consumers demand.
If you're ready to start creating social panels and gain greater insights across any audience, let's chat.