If you frequent our blog, you know we talk a lot about the importance of market research and effective survey outreach to inform your overall marketing, product, or go-to-market strategy. But as researchers and marketers know all too well, reaching your target audience can take ample time and resources, especially if you need to cast a wide net to gather the opinions of a niche or specific audience subset.
In this blog, we break down ways to more effectively identify and connect with members of your target audience for survey engagement.
Breaking Through The Noise
Think about the state of your email inbox. Odds are, it's inundated with promotional emails that largely go unread because there's nothing engaging or unique about them. The canned personalization tactics are easy to spot and just plain stale. In order to break through the noise, you need to truly know your audience–their interests, affinities, and preferences—so that your outreach goes beyond personalization to meaningful engagement.
Social audience data gives you a holistic view of your audience across all the major social and community platforms. This curation of behavioral insights helps you to get a complete picture of who your audience is, and what resonates with them: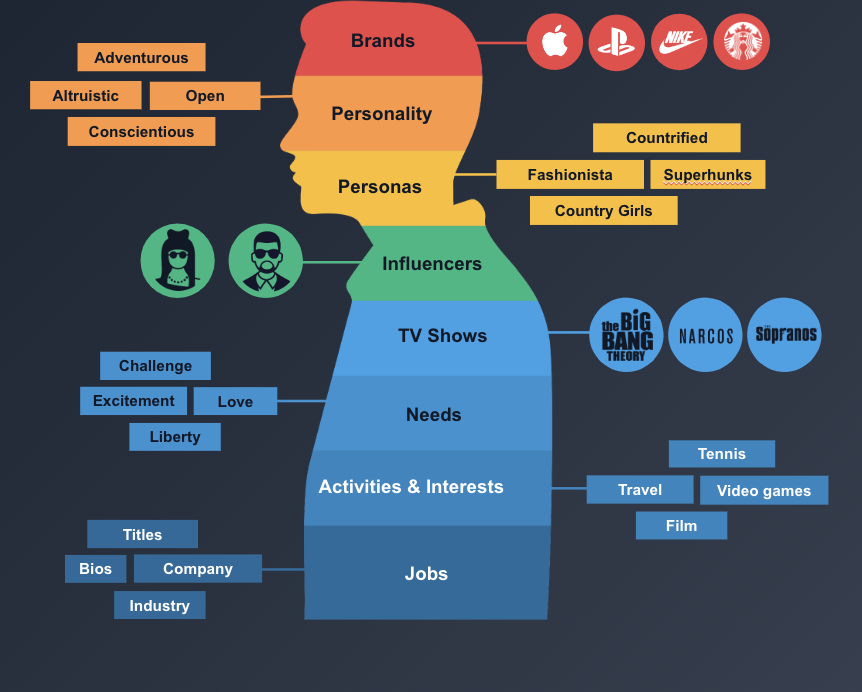 Understanding the things that matter most to your audience allows you to craft powerful survey outreach messaging that pique interest and generate engagement. Let's take a look at how this works in practice. One of our team members received the below survey request email from sporting retailer Backcountry after purchasing gear from their online store: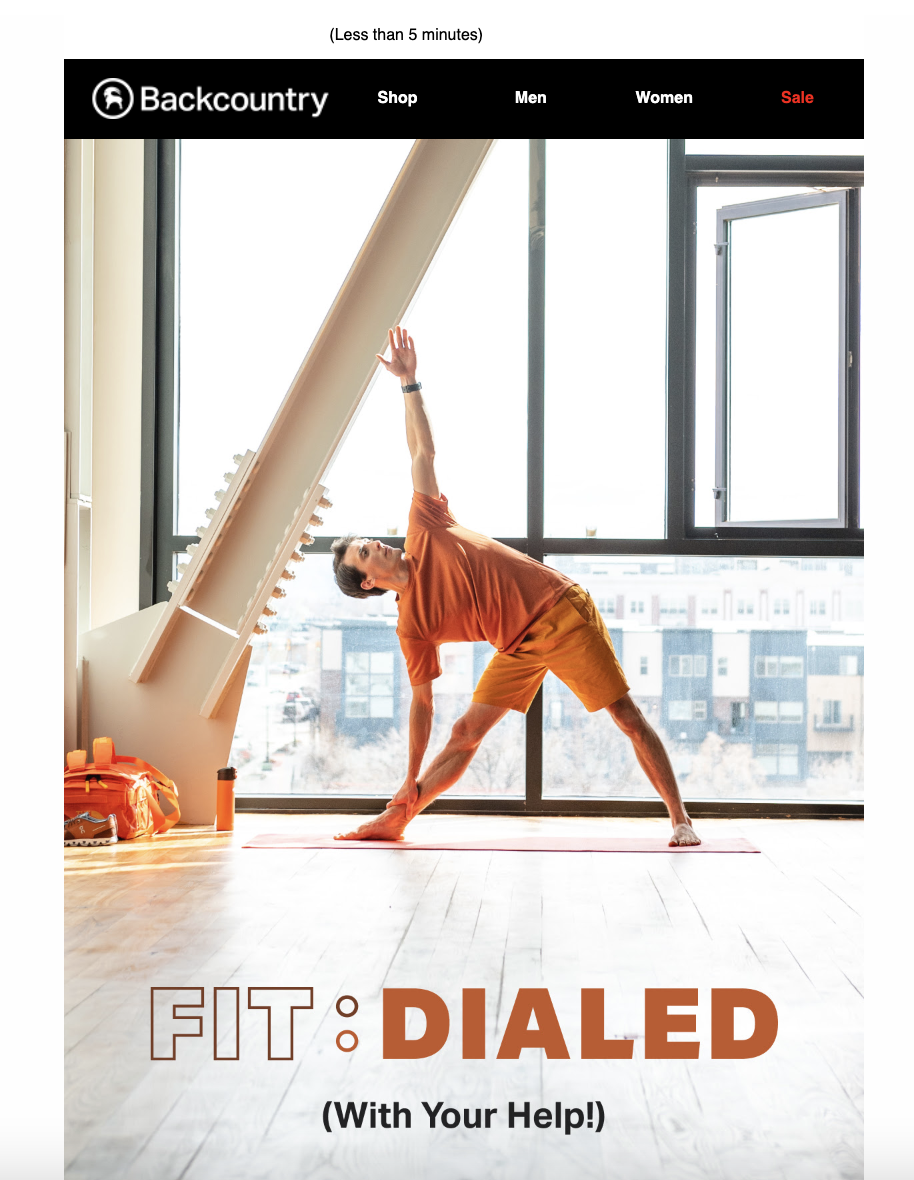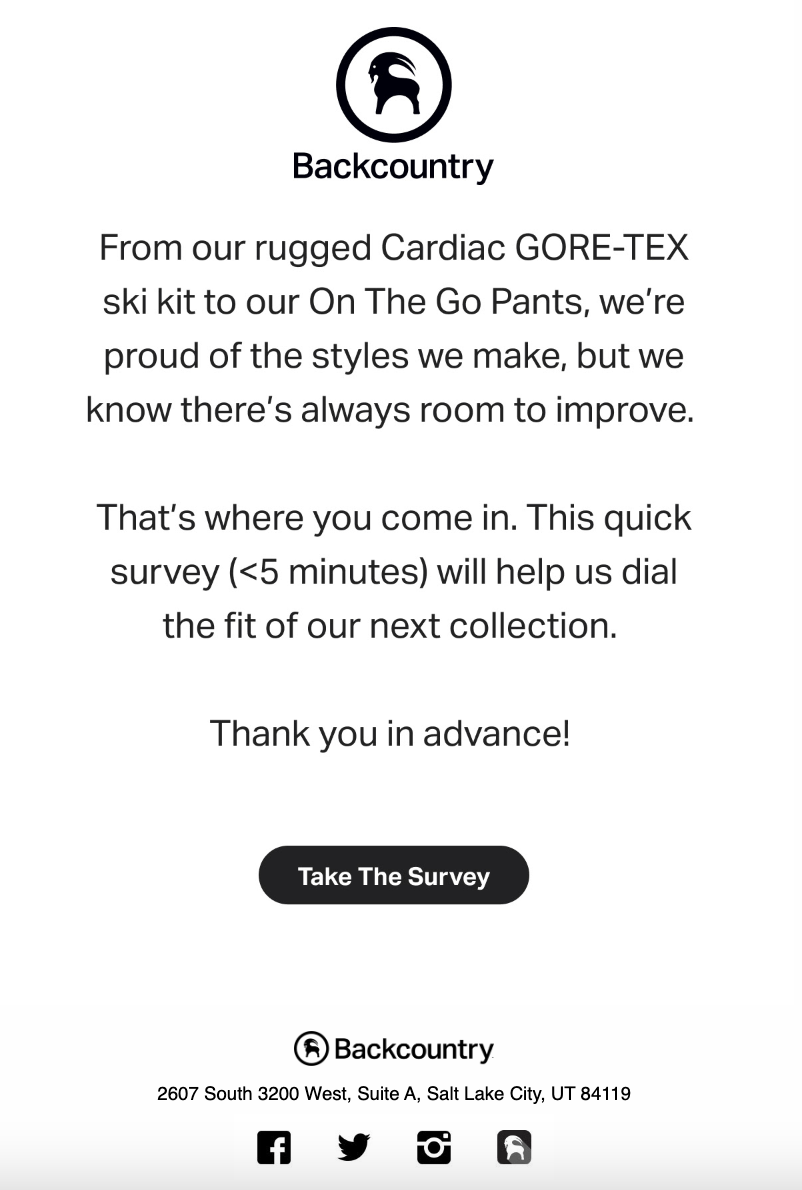 Backcountry does a great job at setting expectations and incentives up-front—an under 5 minute survey to inform future fit design. Overall, it's a great survey outreach email. But here's how they could improve the reach and resonance with additional audience insights:
Target an opted-in audience who frequently participates in athletics or is training for an upcoming event
Mention the sport or event in the subject line
Reach out to audiences who have an affinity toward certain athletic brands (e.g. Nike, UnderArmour) and position your survey around what they love about their fit and design
Offer a giveaway incentive for completing the survey from a brand the audience loves (e.g. Brooks running shoes)
In the above example, we are focused on messaging specific to email recruitment, but the same tips can be leveraged for ad targeting as well. Refine the audience as much as possible, provide clear copy around the purpose and context of the survey, and clearly articulate the value to the potential respondent. But don't forget to ensure your messaging complies with the platform's policies and terms of service or your ad may be taken down for any violations.
Final Thoughts
The first hurdle is getting your customers to notice you, the second hurdle is creating a compelling reason for them to engage. Marketers need to leverage advanced tools and data like social audience insights that provide a window into what motivates and excites your audience. Once you truly understand your audience's interests and motivations, you can create compelling messaging and reach them where they actively and regularly focus their attention. Looking to see how you can better reach your audience for survey outreach? Check out our recent webcast: How to Achieve Precise Survey Profiling with Social Audience Data.