November was a busy month. There was Thanksgiving, the kickoff of the World Cup tournament, and arguably the most memorable event—Taylor Swift's "The Eras Tour" ticketing PR disaster.
In case you somehow missed it, here's a quick recap of what happened. Taylor Swift had a Capital One pre-sale event for fans to snag tickets early for her upcoming tour. On the day of the presale, the presale code failed for many fans, denying them access.
As for those Swifties with working codes, the demand for tickets was so extraordinarily high that most fans were stuck waiting in a virtual queue for hours only to walk away empty handed. Even worse, Ticketmaster ended up needing to scrap ticket sales to the general public, citing "insufficient remaining ticket inventory".
This fiasco left Taylor Swift issuing a public apology and Ticketmaster (along with its parent company Live Nation) under serious heat from the public—with fans filing lawsuits, the media scrutinizing the ticketing giant, and even The Justice Department launching an investigation into the matter.
So what can Ticketmaster (and any brands in the wake of a PR disaster) do to minimize the impact? Let's explore.
1. Analyze Who Was Exposed
You've likely heard the saying, "No press is bad press." Well, this might just be the exception to that rule. Swifties and the general public alike have labeled Ticketmaster an evil corporation looking to maximize profits on loyal fans just trying to see their favorite artist in concert.
Ticketmaster needs to take a page out of Peloton's book and do some major damage control. In order to do so, they first need to take a step back and identify those whose perceptions were impacted by the fallout from the Taylor Swift ticketing catastrophe.
A social audience insights platform (psst, like Silhouette™) can do just that by pinpointing those exposed and engaged to Ticketmaster's negative press across social platforms. From there, Ticketmaster can start to make a plan on how to address them.
2. Assess The Damage to Brand Sentiment
There's no way to sugarcoat this—the hit to Ticketmaster's brand was colossal. It was a major news story for days and one of the top trending topics across social platforms. Below are three ways they can get a sense of the damage done so they can start to rebuild:
Media Impact Analysis
The first step to assessing the damage is to understand how widespread the story hit. In Ticketmaster's case, the media impact was huge—so sifting through is a massive undertaking. Using a media management tool like Cision can give you a clear line of sight into media mentions pertaining to the story so that you can devise a plan to combat the fallout from the PR disaster. Below are just a few of the hundreds of media mentions from the Ticketmaster/Taylor debacle:



Social Listening
Even though it's a painful exercise, turning to social listening will give Ticketmaster a better sense of what they're dealing with. In this case, the sentiment is overwhelmingly negative, and the reach is staggering. But what exactly is it that makes people most angry? Are there takeaways Ticketmaster can use to start to rebuild?

Here are a few reactions from Twitter (we're not laughing, you are)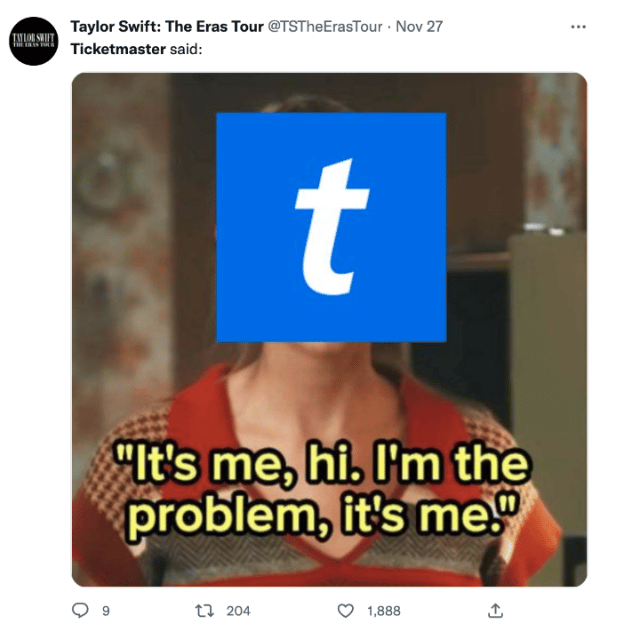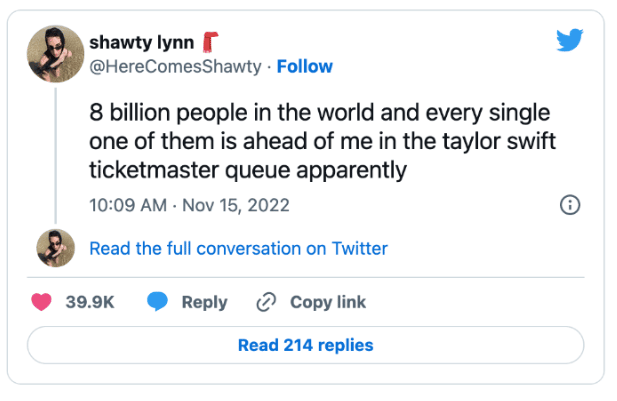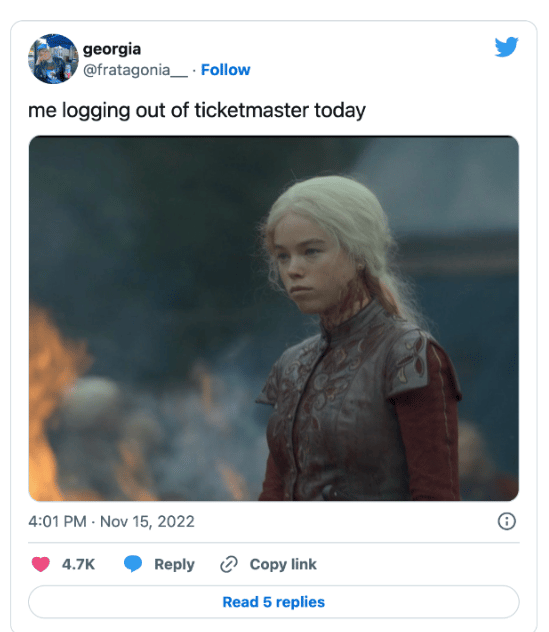 It's clear one of the biggest elements of frustration for Swifties was not that they didn't get tickets, but their experience attempting to get them.

Social Audience insights
To truly understand the impact to brand perception, you can dig even deeper with a social insights platform. These platforms allow you to identify the exposed audiences and take action to understand the following:

Brand perception: Send targeted surveys to the exposed audience to learn more around the brand impact of the negative press.
Revenue impact: Plan to overlay purchase data on your impacted audience to view spending habits for a set period of time pre and post press. Then compare with the spending habits of the general population (your control group) for the same periods to assess if there is a negative impact on sales and purchase behavior.
Take immediate action by crafting counter messaging against the negative press and target the exposed audiences across their preferred media channels.
Using these tactics will arm Ticketmaster with the insights needed to start to repair the damage done.
3. Rebuild
Now that Ticketmaster has full line of sight into how negative an impact the Taylor Swift presale disaster had on their brand, it's time to put a plan in place and start to rebuild. Here's a high-level overview of what they should do:
Infrastructure and UX/UI investments: Analyze where the system broke down and make investments to greatly improve the platform and user experience.
Humanize their brand: The general public views Ticketmaster as a cold corporation and it's up to them to change this perception. They can do this by launching a full campaign to humanize their brand—admit their failings (even poke fun), highlight the people behind "the machine" working hard to right the ship, and launch campaigns focused on rebuilding trust.
Prove you've changed: Be prepared for the next major concert ticket sale and make sure it goes off without a hitch.
In order to bounce back, Ticketmaster needs to take this feedback seriously, and prove they're working hard to not only make things right, but better.
By investing in the right tools—like a social audience intelligence platform— brands will be prepared to minimize the blow when a PR disaster hits, and potentially come out the other side even stronger.