A PR crisis happens fast and seemingly out of nowhere. But when it hits, it can feel all consuming and as if you'll never dig your way out. The key is to arm yourself with the right tools to successfully manage the fallout, and hopefully come back stronger than ever.
A notable example of this recently is (of course) Peloton. When a major character on Sex And The City died of cardiac arrest after an intense cycling class on the popular stationary bike, their stock went into freefall. The rumor is that while Peloton gave their product the green-light to be featured on SATC, they weren't given the details in what capacity. Shocking, right?
Using Peloton's recent blunder, let's examine how social audience insights can help you quickly manage a PR crisis and come back even stronger than before:
3 Ways Social Insights Help You Overcome Crisis In The Short Term
First things first, it's essential to understand that social audience insight platforms are distinctly different from social listening tools. Social audience insights provide a deep understanding of an audience's specific interests, passions, and sentiments as well as give you the ability to identify the real individuals behind all that social activity. Social listening simply provides you with a high-level overview of what's trending across social platforms.
So how can a company like Peloton use social audience insights to overcome a PR crisis? Let's break down the 3 main ways:
1. Identify Potentially Exposed or Engaged Audiences:
When a PR crisis happens, it feels like everyone and their mom knows about it. "Death by Peloton" was trending everywhere, but it was exacerbated by the fact that it happened during the relaunch of one of the most popular shows in history.
The first thing you need to do is understand the actual impact, or reach, of the crisis. A powerful social audience insights platform (psst, like Silhouette) can help you pinpoint exactly which people were exposed to or engaged with the negative press across social platforms. By understanding who was impacted, you can start to make a plan on how to best address them.
2. Assess The Damage:
Once you understand who was potentially exposed, it's time to sit down, get a strong cup of coffee (or who are we kidding, maybe some wine) and dig into what the engaged audience is saying, que a social listening tool. You know it's not going to be good, but it's important to understand the general viewpoints and sentiments your engaged audience is taking. Here are some examples of Peloton's exposed audience reaction (or overreaction, depending who you ask):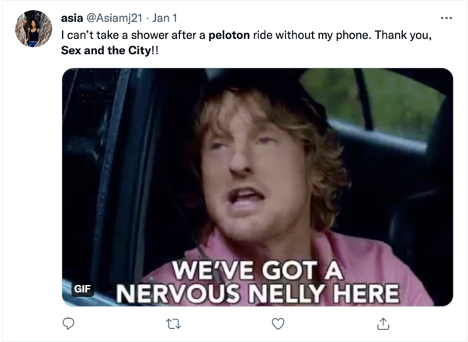 Moving beyond social listening, social audience insights allow you to understand the impact—both on your brand perception and your bottom line. With a tool like Silhouette, you can measure the impact on potentially exposed or engaged audiences by way of surveys and purchase data:
Brand perception: end targeted surveys to this audience to learn more around the brand impact of the negative press.
Revenue impact: Overlay purchase data on your impacted audience to view spending habits pre and post press. Then compare with the spending habits of the general population (your control group) pre and post press to see if there was a negative impact on sales.
3. Take Action:
Once you understand the sentiment, it's time to do some damage control. In Peloton's case, the most pressing sentiment to address was people being afraid to ever purchase or even ride their stationary bike. And since their pockets run deep, they were able to create a fantastic commercial advertisement using the very character who died, the instructor teaching his ride, and the voice over of Ryan Reynolds (who has taken shots at the brand in the past) to rise from the dust:
3 Ways Social Audience Insights Help With A PR Crisis In The Long-term
When the dust settles on a PR crisis there is still work to be done. You need to make sure you are fully dialed into your audience and their evolving interests and sentiments so that you can grow together. Here are 3 ways social insights can assist with this task:
1. Evolving audience interests:
Remember back in 2015 when kale was the hottest food craze? Trends come and go, and interests evolve over time. Most importantly, just because something is trendy doesn't necessarily mean your audience cares about it. Social audience insights allow you to pinpoint your audience's unique interests and beliefs, so that you can center your messaging around what resonates with them most.
2. Social channel presence:
In order to make meaningful connections with your audience, you need to be where they are. Understanding which social channels they frequent most often sets you up for long term success.
3. Surveys:
In addition to monitoring audience trends and interests via their social interactions, you can also send highly targeted surveys. These surveys can validate any shifts in sentiments you're seeing and instill confidence about your marketing campaigns and overall positioning.
Final Thoughts
Despite your best efforts to avoid one, most brands face a PR crisis at some point. The key is having a plan in place so you can spring into action to minimize the damage done and come out on the other side stronger than ever like Peloton. A powerful social audience intelligence platform like Silhouette can do this for you, while also doing wonders for your marketing campaigns.
Ready to take your marketing to the next level? Let's chat.