Influencer marketing is no longer the new kid in town. Influencer marketing has grown 2X since 2019, eclipsing $21 billion. Despite this growth, many influencer search platforms still serve up recommendations based on vanity metrics and preconceived notions instead of identifying influencers based on the audiences they are trying to reach. Luckily, there's a platform that can do just that.
In this blog, we'll explore:
How Silhouette™ makes influencer search easy & strategic
An example scenario evaluating if Lululemon should pursue a partnership with Drew Barrymore
Why Silhouette is key to identifying your next partnership and measuring impact
How Silhouette makes influencer search easy & strategic
If you want your campaign to succeed, it needs to make an impact. But how do you accomplish this?
By taking an audience-first approach to your influencer search. Put simply, an audience-first approach is deeply understanding who your audience is to then inform your marketing decisions.
The most effective way to take an audience-first approach is to harness their self-declared data, or the information they share about themselves, including their unique interests, hobbies, brand affinities, favorite podcasts, trusted influencers, and more. And where can marketers find that information? Exactly where consumers spend hours of their day engaging with content, building relationships, and posting about their thoughts and opinions on a variety of topics–social media.
Having the right tool is paramount to gaining the most comprehensive view of your audience. Many consumer insight platforms rely Twitter insights alone, but the way an individual engages on Twitter may vary greatly from how they portray themselves on other platforms such as TikTok, YouTube, or LinkedIn. Being able to gain holistic insights in a future-proof and compliant way is critical to success.
Enter Silhouette. StatSocial's award-winning social audience insights platform is completely unique in its ability to harness self-declared audience data across several major channels—and serve it up in a way that's both easy to understand and take action on while remaining compliant for today and tomorrow's data regulations.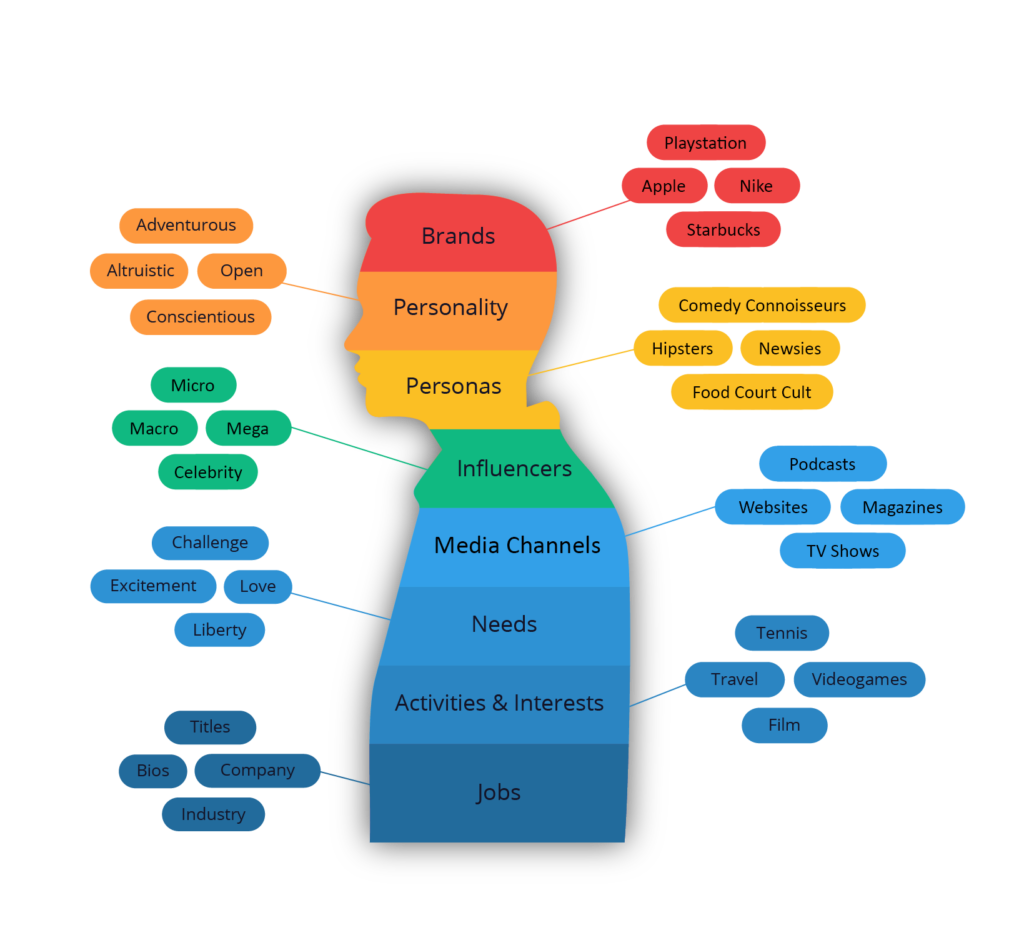 Silhouette takes the guesswork out of your audience data, and arms you with all the insights needed to make strategic data-driven decisions that build powerful campaigns.
Influencer search example: Will Drew Barrymore Drive ROI for Lululemon
Lululemon is one of the most popular lifestyle and athletic apparel companies in the world, particularly among women. They are no stranger to influencer campaigns and recognize the role they play in driving product awareness and sales, which is why they have an official program dedicated to them.
For this exercise, we imagine Luluemon is looking to launch a major campaign that needs a big time celebrity behind it. Their Marketing and PR teams come up with a list of potential celebrities, one of whom is Drew Barrymore.
Here's an insights breakdown on both Lululemon's and Drew Barrymore's US female audience from Silhouette: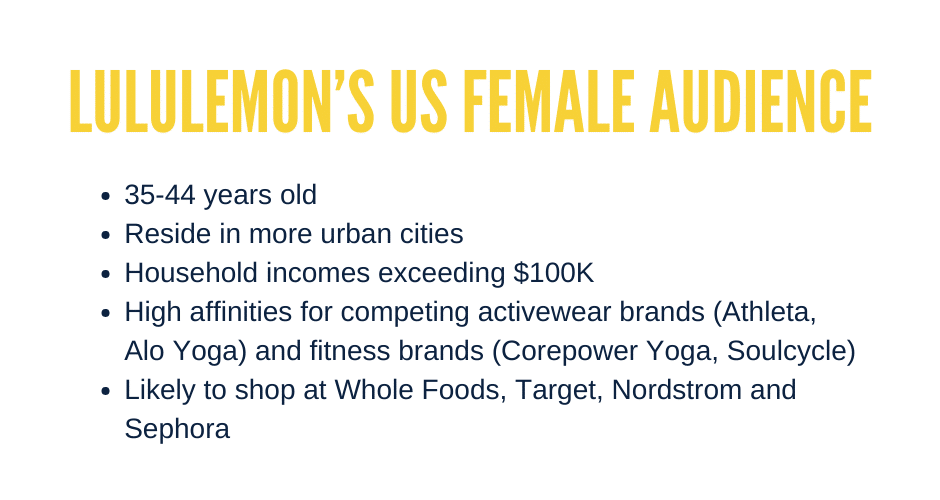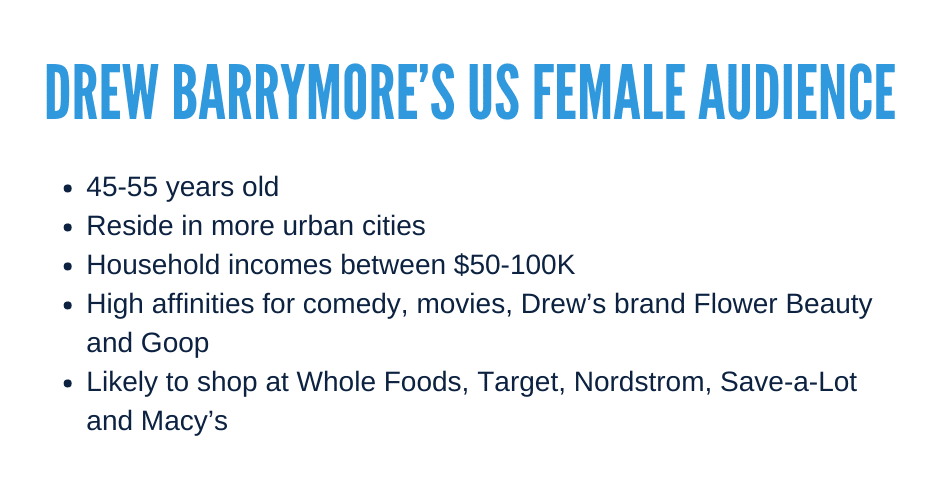 Influencer search analysis in Silhouette: Drew & Lululemon
Using Silhouette's patented technology, we can see that Drew could be a potential option for Lululemon based on these findings:
1.73% of Lululemon fans have an affinity for Drew Barrymore
Compared to the general US female population, fans of Lululemon are 3X more likely to engage with Drew
Lululemon's and Drew's audience are relatively similar but are less similar than other influencers that we'll dive into below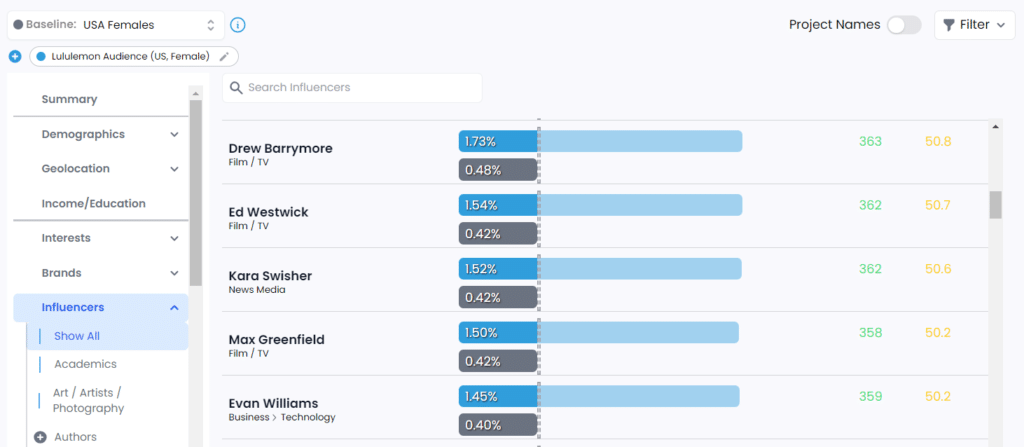 But the insights gained don't end at Drew.
Silhouette provides insights and data across millions of influencers. Lululemon could partner with one if not several of the following influencers that index higher and have greater similarities among their fans than Drew Barrymore: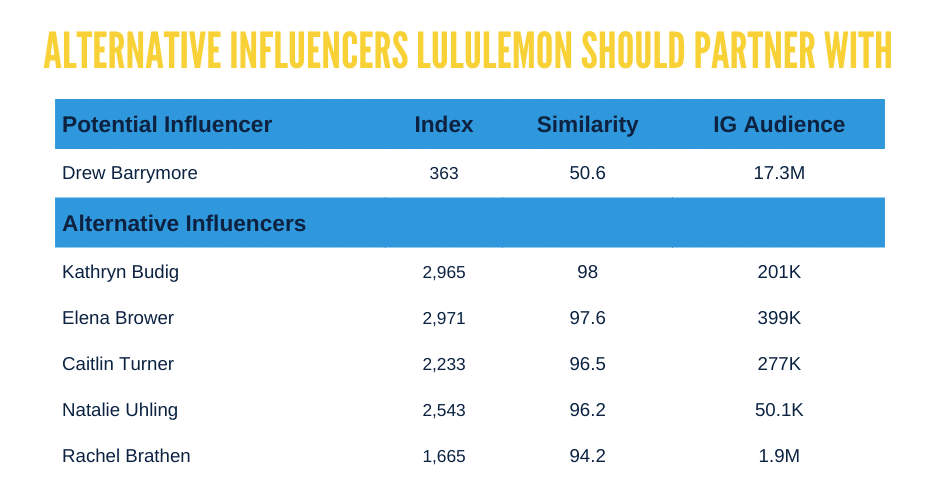 In this example all 5 alternative influencers index much higher among Lululemon's audience, with significantly less followers. Partnering with all 5 influencers could be less costly and more effective than a partnership with Drew.
Moving beyond influencers you can also use Silhouette to analyze brand partnerships. For example, several boutique fitness brands indexed high across Lululemon's audience:
Final thoughts: Silhouette is key to your next influencer search and even post campaign measurement
Too many influencer campaigns are created with little data to validate them. Silhouette changes all of this. It gives marketers a data-driven approach to influencer search, streamlining the tedious process into a seamless experience.
Influencer marketing isn't going anywhere. And many brands will continue to increase their influencer campaign spend. But it doesn't mean they won't run other marketing campaigns too. So isn't it worth investing in a product that can help you validate all of your marketing campaigns? Silhouette helps you take an audience-first approach to:
Influencer discovery and validation
Brand partnerships
Media planning
And then, once you've run these campaigns Silhouette will help you to determine the ROI tied to them through: