March Madness is in full swing. As viewers scramble to get their brackets done in time and cross their fingers that this might be the year that they hit the one in 9.2 quintillion odds of having a perfect bracket, brands are using this time to capitalize on their influencer marketing campaigns. With an estimated 16.9 million viewers tuning into last year's Men's NCAA Championship game, March Madness is as lucrative for networks as it is for brands and athletes they sponsor.
In previous years, only networks and advertisers on said networks could capitalize on March Madness, but in June 2021, the NCAA adopted a new Name, Image, Likeness (NIL) policy opening the doors for brands and athletes to work together. This created a new arena for influencer marketing. No longer must collegiate athletes choose between pursuing their education or pursuing economic prosperity. They can now do both.
NIL allows brands to cash in on both a local and national level. Boost Mobile was one of the first brands to take advantage of this new policy, signing twin sisters Haley and Hanna Cavinder of Fresno State's women's basketball team. Recently, Nike announced a partnership with Reilyn Turner, a sophomore forward with the UCLA Bruins women's soccer team.
Athlete influencer discovery
With NIL in place, how are brands going about discovering their athlete partners and forming deals? Additionally how are they able to measure the revenue impact these deals have on their company? Thanks to social audience insight tools like Silhouette™, it is easier than ever for brands to accurately discover which influencers their audience actively engage with and attribute sales impact resulting from the partnership.
Leveraging social audience insights, brands can now better understand their audience and ensure they are partnering with athletes that resonate most with them. Let's look at the example mentioned above, Boost Mobile.
When looking at Boost Mobile's social audience, in addition to individuals who mentioned Boost Mobile, we can see their audience is:
1.1x more likely to be male
2.8x more likely to have an interest in basketball
3.2x more likely to visit websites like, ESPN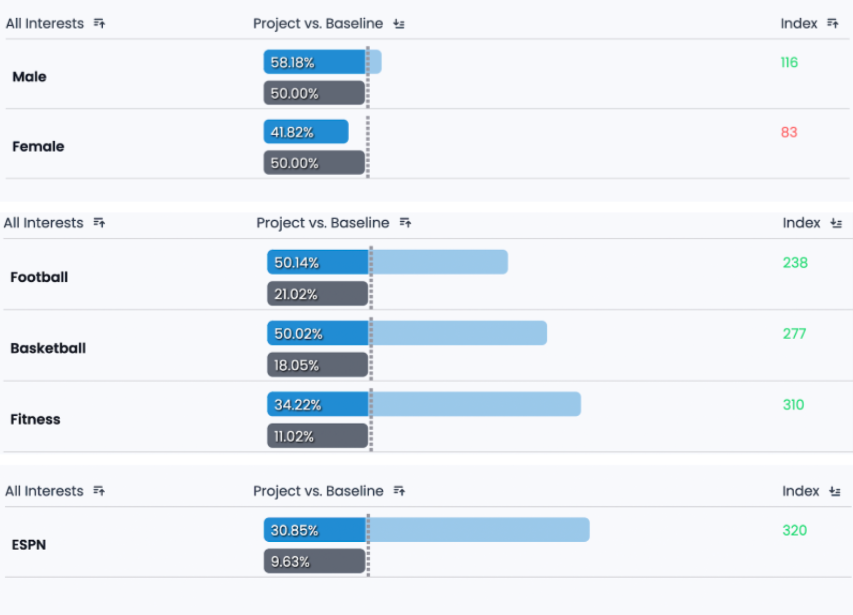 Now, when comparing to Haley and Hanna Cavinder's followings, you can see both are:
1.6x more likely to be male
4.2x more likely to have an interest in basketball
4.9x more likely to visit websites like ESPN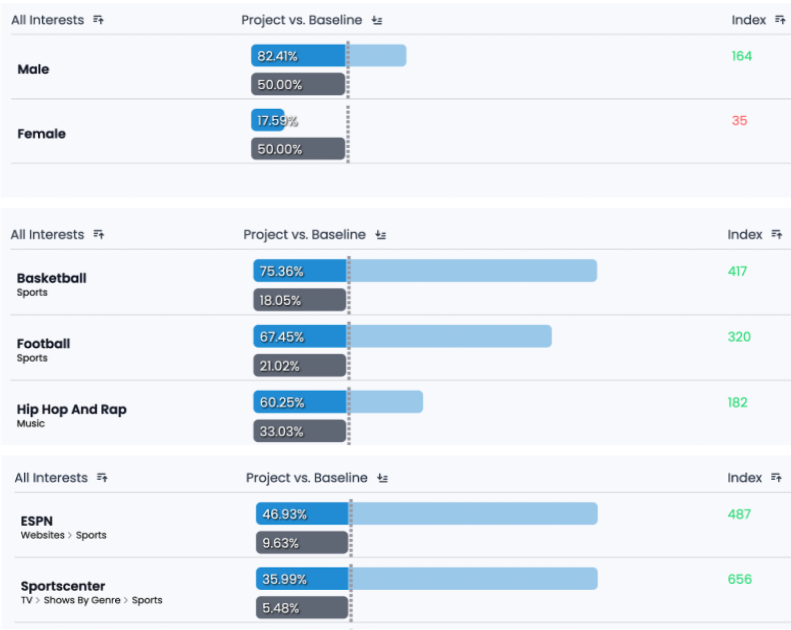 By leveraging social audience insights, you can see that there is significant overlap in Boost Mobile's audience and the Cavinder twins' audience, making the Cavinder twins an ideal fit for Boost Mobile's influencer marketing campaigns.
Making your influencer partnerships count
It can be exciting to report to your leadership team around all the exposure your athlete partnership will bring to your brand and product sales, but what they really care about is ROI. Vanity metrics like likes, comments, and click through rates, indicate content quality and engagement, but they don't capture resulting sales impact. So how exactly do you calculate ROI from your influencer marketing campaigns?
Using a social audience insights tool like Silhouette in combination with a third-party attribution system, you can easily prove sales lift resulting from your influencer campaigns. Using a social audience insights tool, you can identify those engaged and/or exposed to the influencer's content, mapping those social profiles to offline identities. This audience data is then overlaid with purchase data and sent to a third-party attribution system to view resulting sales impact pre and post-campaign.
In the example above, Boost Mobile can tie exposed audiences to the Cavinder twins' content (before and after the partnership started) to offline identities. This audience data can then be coupled with Boost Mobile's purchase data for true influencer attribution.
Bonus: Top 10 Brands Among College Basketball Fans
So let's take a look at which brands should be running influencer campaigns during March Madness, if they aren't already. Using Silhouette, we identified the top 10 brands among college basketball fans that are ripe for collegiate basketball sponsorships:
Want to learn more about how StatSocial can help your influencer marketing efforts? Check out latest Influencer Marketing webcast.