Marketers leverage numerous types of data to understand who their prospects and customers. Whether they turn to first-party CRM or purchase data, third-party data, or traditional research for audience measurement, you can evaluate an audience's unique attributes is key to running a successful marketing program.
Unfortunately for many marketers, with so much data spread across organizational silos and disparate technologies, it can be nearly impossible for them to connect the dots and draw actionable consumer insights for a more informed marketing approach.
If you've visited our blog in the past, the concept of an "audience-first" approach may sound familiar. But for those less familiar, an "audience-first" approach is the deep understanding of who your audience is and where they engage to then inform the media channels, brands, and influencers you should partner with.

StatSocial is helping audience-first marketers take a significant step forward today, with the launch of an important new measurement within our Silhouette™ Platform we refer to as the Similarity Score.
What exactly is the Similarity Score and how does it work?
The Similarity Score is a 1-100% percentile ranking, representing how unique the overlap of any given segment (e.g. brand affinity, influencer, media channel, etc.) is to your audience being analyzed. The higher the similarity, the greater overlap of people in the audience, relative to all other audiences on the web.
Let's take a deeper look at how the Similarity Score can be used in practice:
Influencer identification: Here's an example where we're looking at an audience of HGTV fans. The top-three influencers listed among this audience all have a score of 99.9%–which means that these influencers reside in the 99.9th percentile for how similar HGTV's audience is compared to each of these three influencer's audiences. In essence, there is no better fit possible. This should come as no surprise, as all three have TV shows on HGTV.

Alternatively, you might realize your current social following has massive overlap with a specific influencer partner. If so, it might be time to branch out in order to reach new markets with other social media influencers and thought leaders.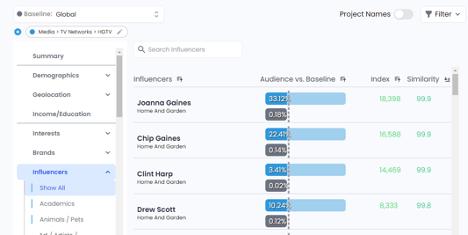 Media placements: Similar to influencer identification, taking an audience-first approach is critical to determining the media channels (podcasts, websites, magazines, TV networks, TV shows, etc.) you decide to purchase ad space on.
Audience relevance: In many cases, brands may want to evaluate how similar or different their own customers and, or social followings are to that of their ideal target audience, a key competitor, or even a brand they aspire to compete with. This can help to provide insight into ways you can better promote your products and services in order to move the needle in your desired direction. For example, if you see your current customers have very little overlap with the audience of a competitor, you may realize that it is time to tap into new channels and partnerships, specifically ones where your competitor sees traction to win over market share.
While StatSocial has historically enabled audience measurement in a number of impactful ways including Silhouette's Index, this additional metric combined with Index can give marketers additional context into their data. As an example, Index alone provides an understanding of an audience's interests, brand affinities, preferred media and influencers compared to the specified baseline (e.g. a control group such as gen pop); however, without the Similarity Score it can be difficult to determine the impact of choosing one over indexed segment versus another. When including Similarity as an additional metric, users can better understand how relevant a segment is from the audience being analyzed.
The next generation of audience measurement
A fully executed marketing program can drive awareness and ultimately sales. The tools your team employs can inform the types of messaging, influencers, and partnerships you pursue, but ensuring all are relevant to your prospects and customers is key. When you tap into social audience insights, you gain hundreds of thousands of data points on your audience that will ultimately lead to a positive return.
Looking to learn more about how our new Similarity Score can help you and your team level up your insights? Schedule a demo today.