If you frequent the blog, you know that we discuss influencer campaigns and influencer marketing quite a bit. And that's because it's become an essential part of any well rounded marketing strategy. Consider the three statistics from Digital Marketing Institute that showcase just how impactful influencer marketing is today:
70% of teens trust influencers more than traditional celebrities
86% of women use social media for purchasing advice
The influencer marketing industry surpassed print and is expected to hit $13.8bn by 2022
There's no question that when done effectively, influencer marketing can produce a major lift in brand awareness and revenue. But just like any emerging market, it's not without its problems.

If you're active on social media platforms like Instagram or TikTok, you know there's no shortage of influencer campaigns. The amount of content creators trying to sell you skincare is overwhelming. It seems that in their eagerness to capitalize, many marketers haven't taken time to fully understand how to select those influencers that best align with their target audience.
Why Measuring Influencer Campaigns is Tricky
Influencer marketing is at a tipping point between useful and spammy. But we can't fully blame marketers alone because as it turns out, accurately measuring influencer campaigns is difficult.

Traditionally, tracking influencer marketing campaign results have relied on two main things; affiliate links and promo codes:
Affiliate links: A specific URL that includes the influencer's name or ID
Promo codes: A discount code created specifically for the influencer campaign
Both of these means of tracking are heavily flawed due to the ease at which they can be exploited. Think about the last time you made a purchase on the internet. Did you use a coupon-finder browser extension like Honey? Or maybe you scoured the web for promo codes? If so, you're guilty as charged (like the rest of us) at mucking up a fellow marketer's campaign measurement.

The reality is that affiliate links and promo codes are outdated ways to measure campaign success (but don't get us wrong, we love them for a good deal). Luckily, there's a better way to accurately determine the ROI of your influencer campaigns.
The Attribution Effect: What It Is & How It Works
What is attribution?
In the context of marketing, attribution is the identification of those customer touchpoints that contributed to a desired outcome (often a purchase), and then the assignment of values to each of those events (often ROI). While attribution itself is not a new concept, applying it to marketing efforts done across social media—like influencer marketing—is. But thanks to new technologies, this is no longer the case.
How does attribution work for social campaigns?
Up until recently, there wasn't an easy way for marketers to identify individuals exposed to a social media campaign to then tie back conversion data. Social audience insights and technologies like StatSocial's Silhouette™ platform have enabled marketers to identify exposed social audiences and then map them back to Personal Identifiable Information(PII) for the first time. This data includes a social user's name, hashed email, zip code, device ID, etc. It is this information that enables marketers to overlay the exposed audience with first or third-party sales data to understand the real ROI impact of specific influencer campaigns.

Looking for a quick calculation guide? Check out our 5-step infographic to see how attribution works for social campaigns.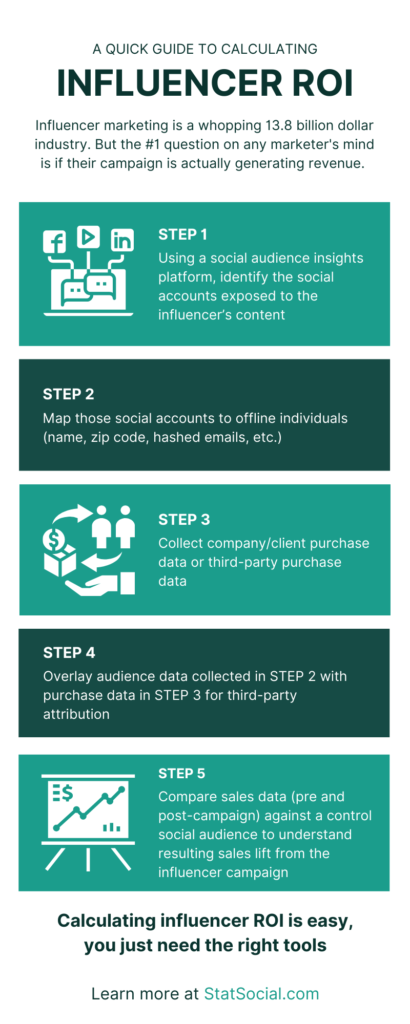 To showcase how this works in the real world, let's take a look at an example from the partnership between mega influencer Charli D'Amelio and Dunkin Donuts.
Charli D and Dunkin Donuts
Image source: Tube Filter
The Campaign: Charli D'Amelio is a famous Tik Tok influencer, largely popular with Gen Z. She has a staggering amount of followers—over 133 million. Looking to capitalize on her clout, Dunkin Donuts teamed up with Charli for an influencer campaign with a specific goal to increase use of their mobile app.

Charli took to her social channels, promoting her own signature Dunkin Iced Coffee aptly named "The Charli", and encouraging her followers to order it through the Dunkin App.

The Results: Prior to the campaign, Charli's fan base spent considerably less on Dunkin Donuts than the average US consumer. But during the campaign, Charli's fans spent an incredible 44% more than the average US consumer, proving the campaign was wildly successful.

Looking for a deep-dive on how the above attribution model works with influencer marketing? Check out our new eBook, The 2022 Influencer Marketing Guide.
Attribution: The Future Of High-Impact Marketing Campaigns
Influencer marketing campaigns are only becoming more popular each year. But they're also becoming very expensive. Just because an influencer has a large following, does not mean they're worth the hefty price tag. The key is to target influencers that resonate with your audience based on their unique interests and affinities.

Taking an audience-first approach to your marketing campaigns will help you run highly effective campaigns and build meaningful relationships with your consumers.

Attribution is the future of data-driven marketing. If you want in, let's chat.