When you think about identifying influencers for an upcoming marketing campaign, what are some parameters that affect your choice? Many marketers look at things like follower count and the influencer's overall popularity. On the surface, these seem like good indicators of whether or not you'll be successful—but they're actually not.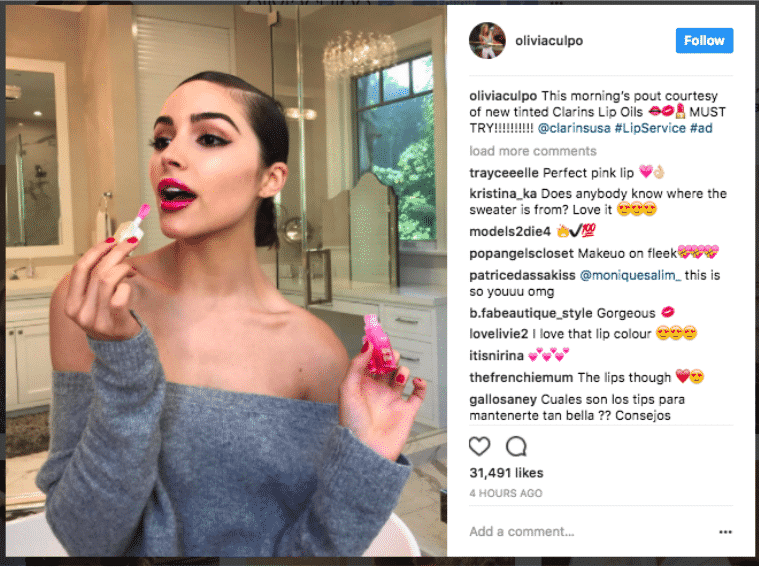 Contrary to popular belief, using a top influencer is not always the right strategy. What's most important is ensuring that the influencer resonates with your target audience. Take the above influencer advertisement from Olivia Culpo. Given the amount of likes this post rendered, Clarins undoubtedly saw some sort of lift from this campaign.
But maybe they could have achieved even higher success with a less expensive partner had they selected one or more influencers better suited for their target audience. To take an audience-first approach to influencer marketing, you need to put your audience's interests at the center of your search. Below are 5 common considerations when identifying influencers for your upcoming campaigns:
Reach: Follower count on its own is not an ideal metric for influencer selection as it does not tell you how many of those individuals actually overlap with your target audience. That said, when in a pinch and if you are truly looking to cast a wide net, overall reach can help with identifying influencers most likely to help you do so.
Relevance: One way many marketers evaluate relevance is by taking a look at the topics an influencer is posting about. To take that a step further, we recommend also looking at previous sponsored content they may have posted. What brands were they working with? What products were they promoting? Are those relevant to your target audience?
Engagement Rates: How engaged is your influencer's audience? Here's the formula to figure that out: (Total engagements/ followers) x 100. This calculation is more important than you might think as it helps to validate whether or not an influencer's followers are real people or maybe a mix of bots as well. Additionally, if the engagement rate is high, it is safe to assume their followers are actually consuming the content in their posts.
Content Quality: When it comes to content quality, this may seem a bit subjective but you know your brand best! Does the influencer's content align well with your own goals and objectives? Is their content and messaging well written and clear? If not, you may want to pass.
Audience Sample: Without the right tools in place, a truly audience-first approach can be almost impossible. That said, the manual process of evaluating an audience sample is one of the best ways to go about determining whether or not an influencer is hitting your ideal buyers. Depending on bandwidth, select at random 10, 20, or even 100 of the influencer's followers (ideally those with public profiles) and dive in. Who are they? Do they fit your target profile based on their bio, their assumed demographics, the content they post about and find interesting?
Understanding how the influencer resonates with your target audience is far more important than just high level vanity metrics.
Identifying Influencers Using A Social Audience Platform
Now that you know the right questions to ask when it comes to influencer discovery, it's time to actually pin them down. But where do you start? Cue social audiences.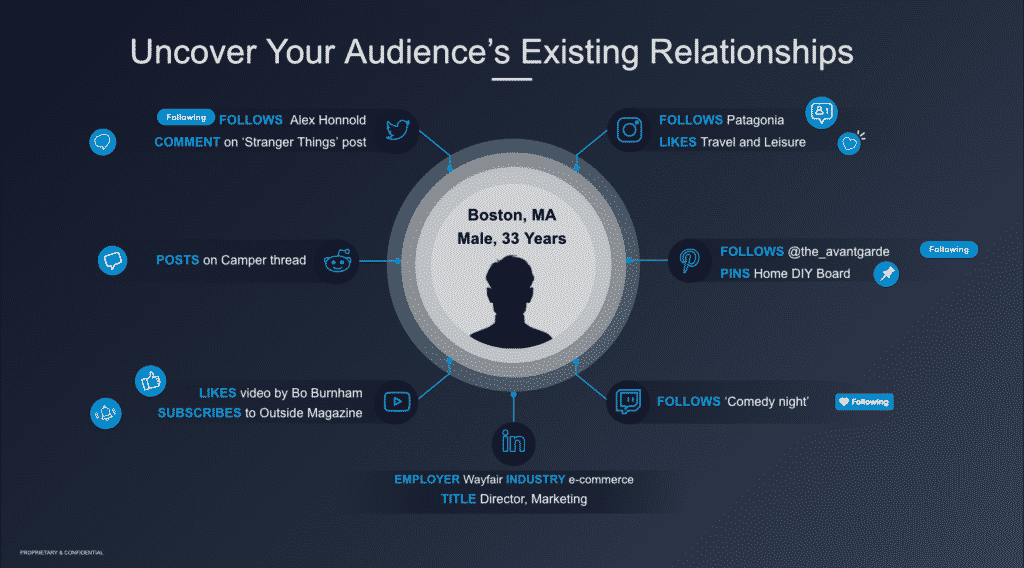 Social audience insights allow you to see what an individual engages with and who they follow across major social platforms, giving you a 360-view of their unique interests, passions, brand affinities, preferred media channels, and more. Once you know who your audience is, you can then use your social audience insights platform to identify the influencers that they already engage with.
But here's the thing—your influencer management platform alone isn't going to give the rich insights mentioned above. Traditionally, influencer management tools rely on social monitoring to identifying influencers based on the conversations they are having across social channels as well as high level metrics like follower counts.
You've most likely invested in an influencer management tool. This is great for finding influencers that post about topics relevant to your audience as well as managing relationships with them. But you'll want to consider a social audience insights platform to identify and validate your partnerships based on the influencers your target audience actively engages with.
When used in tandem with an influencer management platform, a social audience insights platform helps you bring campaigns to the next level by:
Validating your existing influencer partnerships by importing them into your audience insights platform and taking a look at the audience they are attracting
Identifying influencers that your audience is already engaged
Allowing you to push those key influencers into your influencer management tool for outreach and relationship management
Calculating sales impact by identifying audiences engaged with the influencer's content and overlaying sales data
Using a social audience insights platform as part of your influencer marketing strategy helps you feel fully confident that you have identified the best influencers for your campaigns. The end result? High impact influencer marketing campaigns with a clear understanding of your ROI.
Ready to transform your influencer marketing campaigns? Let's chat.
Looking for a deep-dive on influencer marketing? Check out our on-demand webinar: The Data-Driven Approach to Influencer Marketing