Whether you have a sophisticated influencer marketing program or are just starting out, it's critical to identify the influencer partnerships that are mostly likely to reach and engage with your audience. If you've visited our blog in the past, the concept of an "audience-first" approach may sound familiar. But for those less acquainted, an "audience-first" approach, simply put, is the deep understanding of who your audience is and where they engage to then inform the media channels, brands, and influencers you should partner with.
A better way to identify influencer partnerships
It's easy to let preconceived notions set in or fixate over follower counts when selecting influencer partners. If you're looking to adopt an influencer management platform or already use one, you may or may not be surprised to know that influencers are typically recommended in the following ways:
While these key indicators are great for informing reach and whether an influencer's content is even relevant to your brand, they do not capture a snapshot of the influencer's audience including their interests, behaviors, or brand affinities. Without that data, there is no way to validate if the followers of an influencer fit your target profile. To take an audience-first approach to influencer identification and validation, you will need a social audience insights platform.
Social audience insights provide self-declared data sourced from a variety of major social channels, enabling marketers to better understand their audiences' interests, affinities, trusted influencers, preferred media channels and more. With this data at your fingertips, you can challenge any preconceived notions and high level engagement metrics to discover the influencers and thought leaders your audience already trusts.
Creating confidence in your Influencer partnerships
At StatSocial, clients have always been able to create highly custom audiences to inform or validate influencer partnerships. Recently, we made this process even easier and faster through our Silhouette platform's new Similarity Score.
The Similarity Score is a 1-100% percentile ranking, representing how unique the overlap of any given segment (e.g. brand affinity, influencer, media channel, etc.) is to your audience being analyzed. The higher the similarity, the greater overlap of people in the audience, relative to all other audiences on the web.
Let's say we're trying to validate several non-celebrity beauty influencers our brand is considering to partner with for our next campaign. Of our audience of female Millennial beauty enthusiasts, we'll likely want to initiate partnerships with influencers with a similarity score of 90% and above versus influencers with a similarity score of 80-89%.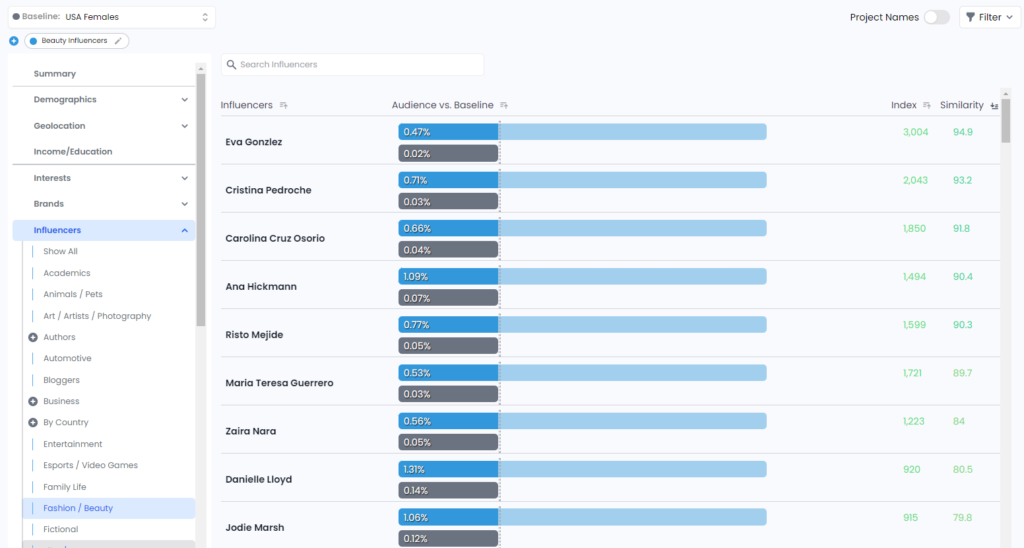 Making "cents" of it all
A fully executed influencer marketing program can drive awareness and ultimately sales. The tools your team employs can inform the types of influencer partnerships you pursue, but ensuring that your target audience and your influencer's audience overlap is key to achieving your goals. When we can tap into social audience insights, we gain hundreds of thousands of data points on our audience like the influencers they engage with, that will help us to understand which influencers will best reach our intended target audience, and ultimately, result in a higher return.
Looking to bring social audience insights to your influencer marketing program? Schedule a demo today.
Explore more great content on influencer identification, validation and attribution in these featured blog posts:
The Limitations of Social Listening For Influencer Marketing
Why Affiliate Links and Promo Codes Aren't Enough for Measuring Influencer Campaigns
Why A Social Audience Insights Platform Should be Part of Your Influencer Tech Stack
StatSocial Announced Winner of the "Influencer Marketing Innovation Award" by MarTech Breakthrough