April 11th is National Pet Day, a day to recognize our furry friends and give them some extra love. And even though we don't need an excuse to spoil our animals, it's a fun day we can all get behind. We wish you could get the day off to spend with your pet, but we doubt that'll fly. So here's the second best thing we can offer—a work-related blog all about pets and pet influencers.
Using our social audience insights platform Silhouette™, we rounded up interesting insights about pet owners and the top pet influencers on social media. Read on to pay homage to your furry friends while also learning what we gleaned about the powerful pet owner audience.
The Pet Owner Profile
To take a closer look at this animal-centric audience, we compiled a list of social audiences who shop at Petsmart, Petco, Chewy, and Bentley's Pet Stuff to get a holistic view of who they are. Here are some key similarities across the major pet store shoppers:
Female First: 66% of pet food shoppers are women over the age of 25
Food Fodder: Pet parents seem to love spoiling their furry friends with subscriptions to BarkBox and a puppuccino from Starbucks
Pristine Pup: Clorox, Swiffer, and Febreze were top brands of this pet audience looking to clean up muddy paws and fur
Pawsitive Impact: The audience showed a strong affinity towards animal charities such as the ASPCA, Humane Society, and Best Friends Animal Society
The old dog vs. cat debate
Our social audience insights also revealed which type of pet you own influences where you shop. 81% of Petco followers are likely dog owners, where 45% of Petsmart owners likely have cats:
Tech Savvy Streamers
Chewy shoppers proved their alliance to digital services spans beyond pet products, as they were more likely to be members of the major streaming services than other shoppers:
The Privileged Pet
Just as we find in other social audiences, there is a subset of pet owners willing and able to offer their pets the finer things in life. They shop at boutique pet stores and differentiate from their big box pet store counterparts in the following ways:
Cat Coverage: Boutique shoppers are 16x more likely to be interested in pet insurance
Bougie Barkers: 31% of boutique pet owners have incomes over $100K and are twice as likely to shop at Whole Foods
The above is in line with general pet care industry trends from PetPedia, that touts an increase in spending on pets during the covid-19 pandemic:
Top Pet Influencers on Social Media
Petpedia predicts the pet care market will grow to a staggering $358 billion by 2027, proving our obsession with pets is only growing. Given this, it's no surprise to see pets making a major imprint in the influencer space. Let's take a look at the top 5 pet influencers on social media:
Instagram Followers: 9.8 million
TikTok Followers: 20.6 million
Facebook Followers: 1.3 million
Jiff Pom is a pomeranian that hails as the most followed pet influencer on social media. He rose to Instagram stardom by playing dress up in adorable, human-like outfits. Jiff has been featured in commercials for Target, Banana Republic, and even a Katy Perry Music video.
Instagram Followers: 4.3 million
TikTok Followers: 223K
Facebook Followers: 2.5 million
Nala the cat is the Guinness World Record holder for most popular cat on Instagram. One look at her beautiful face, and you'll understand why she's one of the most followed pet influencers. Nala was adopted from a shelter. Her owner created an Instagram page so her family could follow along with their adventures, and the rest is history. Nala even has her own cat food line, Love Nala Co.
Instagram Followers: 3.8 million
TikTok Followers: 5.9 million
Facebook Followers: 5.7 million
Doug the Pug is a cute dog from Nashville that loves to have a good time with his owner and look cool doing it. Doug gained so much popularity from his pet influencer status on social media he recently landed a role in Mitchells vs. Machines. Doug is a 2x People's Choice Choice Award Winner for "Favorite Animal Star", and even has his own online merchandise store.
Instagram Followers: 3.3 million
TikTok Followers: 10 million
Facebook Followers: 2.4 million
Tucker the Golden Retriever rose to fame from all the cute and funny YouTube video's his owner posts. Now one of the most popular dogs on social media, Tucker's photogenic nature lends a major hand in his success as a pet influencer.
Instagram Followers: 3 million
TikTok Followers: 3.6 million
Facebook Followers: 1.2 million
Juniper is a strikingly beautiful North American red fox that hails as social media's most beloved fox. How can anyone resist that face? Juniper's instagram is unique in that it features a variety of rescued woodland creatures. Juniper redeems the fox's reputation by proving they are far more than the conniving animals depicted in children's books.
Bonus: StatSocial Pets
How could we write a blog about pets without including our own? While they may not be pet influencers, here are some of our precious pets:
Alex Honnold
Alex Honnold is the spoiled tabby cat of SVP of Client Services and Partnerships, Tom O'Toole. Alex is a natural climber who trains daily by climbing into his hammock and leaping to Tom's shoulders on Zoom calls. He was rescued as a young kitten from the streets of Washington Heights during a mid-pandemic snowstorm.
Bella is Content Writer Justina's 12 year old Dalmatian. Despite her age, she still acts like a spring chick. In her prime, she was known to chase down and scare off large flocks of geese, trained alongside Justina for 2 half marathons, and could out fetch any dog. Bella is still living her best life on the New England coast where she still enjoys long walks and trips to the beach.
Chloe
Chloe, also known as BoBo, Gucci, Bobis is the furry family member of Sales Director, Garey Bell. Chloe basically answers to anything that will grant her unlimited belly rubs and potential leftovers. She loves people and other pets. As you can see, she protects her owners and home with fierce fashion and bulging brown eyes
Gracie
Gracie is the proud pooch of Sales Director, Nick Lenhardt, but the family affectionately calls her "Bubbs." She has more patience than a monk with a brother and sister who don't totally understand the difference between her and their stuffed animals. But…it's cool, she's rewarded with all the food they drop.
Joey
Joey aka One Eyed Joe, is the fur-baby of Customer Success Manager, Laura Ghurlke. What he may lack in eyes, he makes up for in fluff. He enjoys snow, treats, shedding and singing along to Harry Styles.
Lady Isabel Beatrice Gauthier (aka Izzy)
12-year old Izzy is the fur-baby of Marketing Director, Marlee Gauthier. Izzy, a 7-Ib yorkie, lives for food just like her human. Her favorite human foods include chicken, tuna, blueberries, crunchy lettuce, green beans and cucumbers. She loves sunbathing outside when it's warm, taking bike rides in her basket and wearing a sweater or fashionable scarf on a chilly day.
Lucy Grace Vanderwall Gillespie
Lucy Grace Vanderwall Gillespie is SVP of Data & Platform, Lane Gillespie's 7 year old yellow lab who lives at home with her human family. Lucy and her two human siblings enjoy playing outside, digging holes in the dirt and chasing squirrels. Her favorite day of the year is her birthday in which she gets to enjoy an extra meal that her humans call "lunch." During the summer months you can catch Lucy jumping off docks, swimming after her siblings and begging at bbq's.
Mando
Mando is the 4 month old, 44-lb Cane Corso of Solutions Consultant, Shane Robertson. Mando loves to hang with his family, and watch over his little human siblings. His bite force might be stronger than a lion, but his kisses are even more powerful! He has a funny way of telling you he's done with his walk, making you carry him, if you're still a ways away from home.
Optimus Prime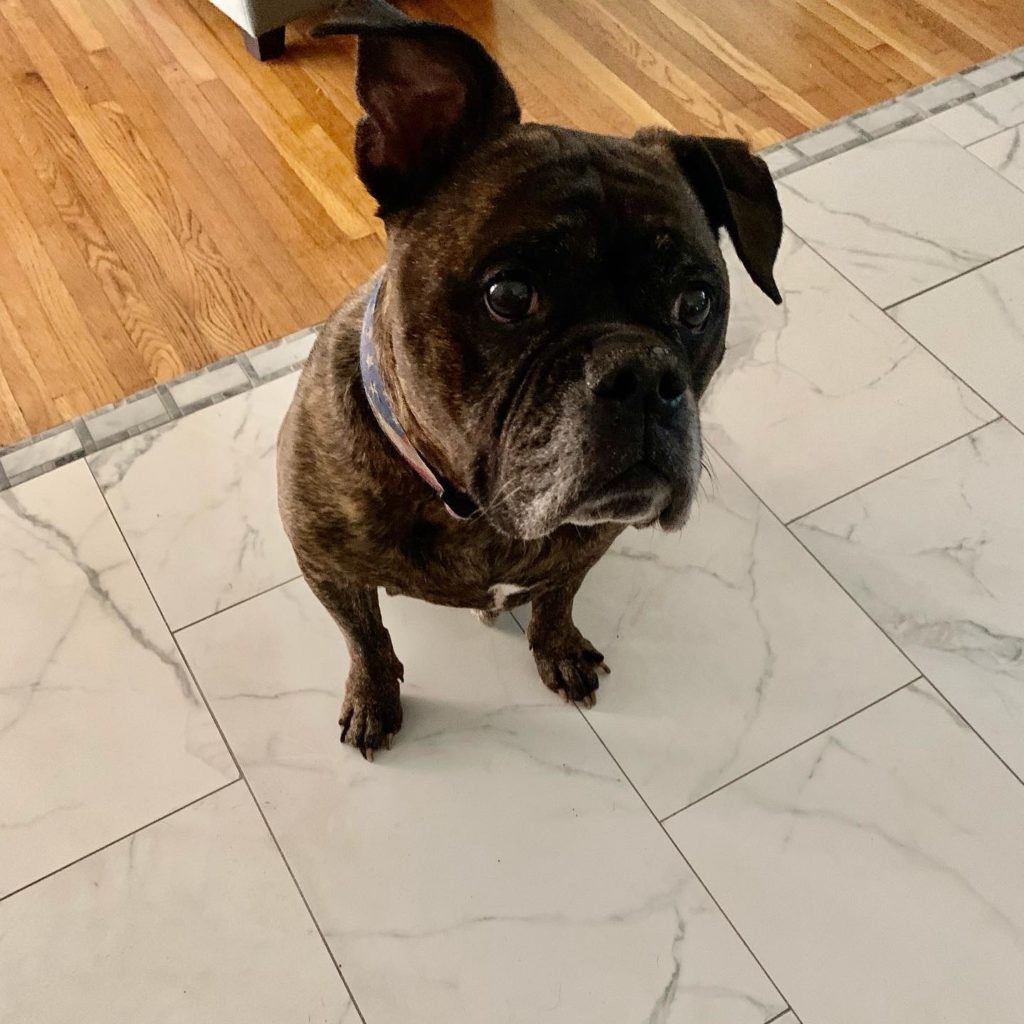 This old man is the best friend of our Demand Generation Manager, Haley. While his beard may be grey, he is not wiser beyond his years. He can often be found tanning on the back deck, barking at UPS and Liberty Mutual commercials, and licking up the crumbs his little twin bros leave him.
Smokey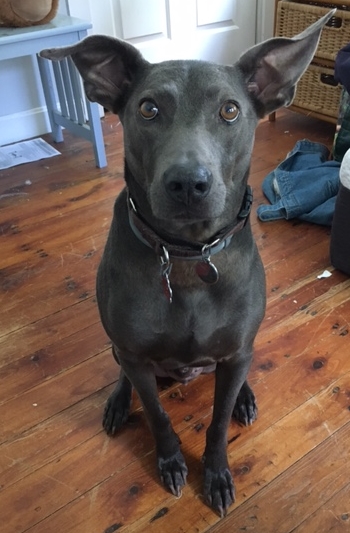 Smokey is Data Analyst Mamie Dean's 7 year old mutt. He had a DNA test done and it came back Doberman/Chihuahua and is affectionately nicknamed Dobbie. He loves playing fetch with tennis balls andhen he wants a treat, he will take his kong and either fling it into a wall or the next room. People might say he's a tad spoiled, but he's a good boy.
Stuart
Stuart is the golden doodle of COO, Andrea Rosi. He lives his life in constant fear of his youngest brother.