The month of May is a welcomed sight to those of us in northern climates dethawing from a long winter. But even if you don't hail from a cold climate, May offers a celebration we can all get behind—Cinco de Mayo.
While many Americans are quick to raise a cerveza in honor of Cinco de Mayo, few actually know much about what they're celebrating. Below are 4 quick facts about Cinco de Mayo so you can be sure your toast on Thursday is well informed.
Fact #1: Cinco de Mayo is not Mexico's independence day. Contrary to popular belief, the holiday is actually a celebration of an unlikely victory against Napoleon's army looking to invade and expand his empire within the already independent country. Cinco de Mayo is a nod to Mexico's depleted army coming up victorious at the Battle of Puebla on May 5th, 1862 and giving an incredible boost to national morale.
Fact #2: Cinco de Mayo is not a federal holiday in Mexico. While certainly recognized throughout Mexico, the day is widely celebrated in the region of Puebla with speeches, parades, and reenactments.
Fact #3: Independence Day in Mexico is celebrated on September 16th. Dia de la Independencia actually occurred 50 years prior to Cinco de Mayo on September 16th, 1810.
Fact #4: Cinco de Mayo is more widely celebrated in the United States than Mexico. Chicano (first generation Mexican-Americans) activists raised awareness about the holiday in the 1960's as a way to pay homage to Mexico's rich culture. While initially popular in communities with a high concentration of Mexican immigrants, it was only a matter of time before the general population was hooked on paying homage to this high-spirited heritage.
Key Audience Insights For Mexican and Mexican Influenced Brands
Here at StatSocial, we don't need much of an excuse to indulge in burritos and bottomless margaritas. But it got our team thinking about how Americans across the US enjoy the delicious offerings from our friends South of the Border and where regional preferences lie.
Much like we've done for Thanksgiving and the Chicken Sandwich craze, we used the social audience data from our social audience insights platform, Silhouette™ to uncover the similarities and differences among audiences of some of our favorite Mexican and Mexican inspired brands in the U.S.
Without further ado, let's get this fiesta started!
Modelo vs. Corona
Your affinity for one of the two quintessential Mexican cervezas can reveal a lot about who you are–and where you're from. The two heat maps below reveal that Modelo drinkers are more heavily concentrated along the west coast and south west region while Corona drinkers are more evenly dispersed across the US:
MODELO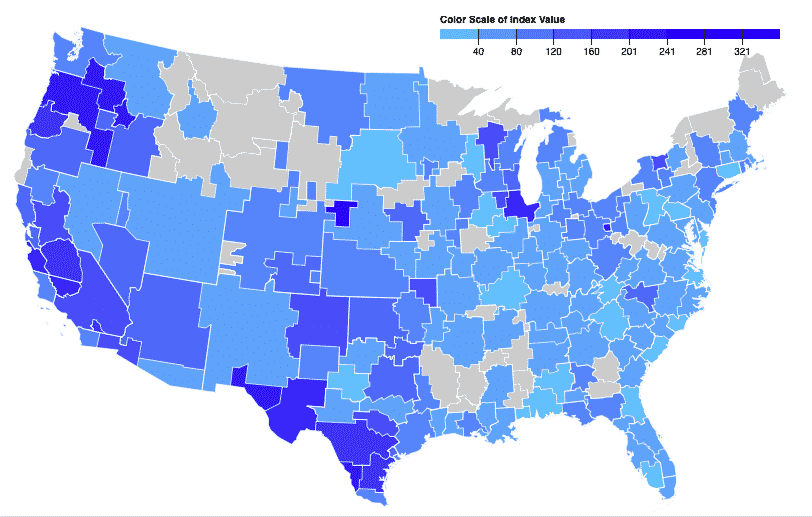 CORONA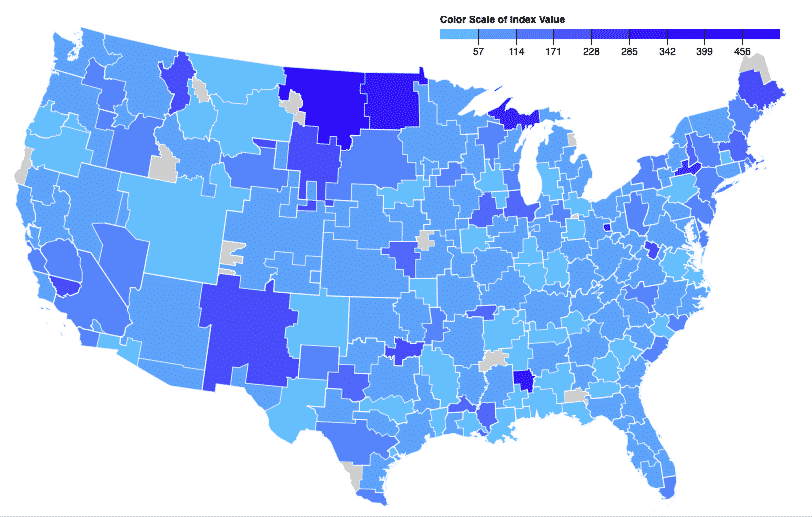 A few other notable differences between the two audiences:
Mature Modelo: Modelo drinkers are 1.6x more likely to be 54 or older whereas Corona drinkers are predominantly in the 25-34 age demographic.
Classy Corona: Evidently, a global pandemic didn't impact this Corona—as their audience has an affinity for the finer things in life from fast cars (Mercedes, BMW, Maserati) to high-end luxury goods (Louis Vuoitton, Chanel, Porsche).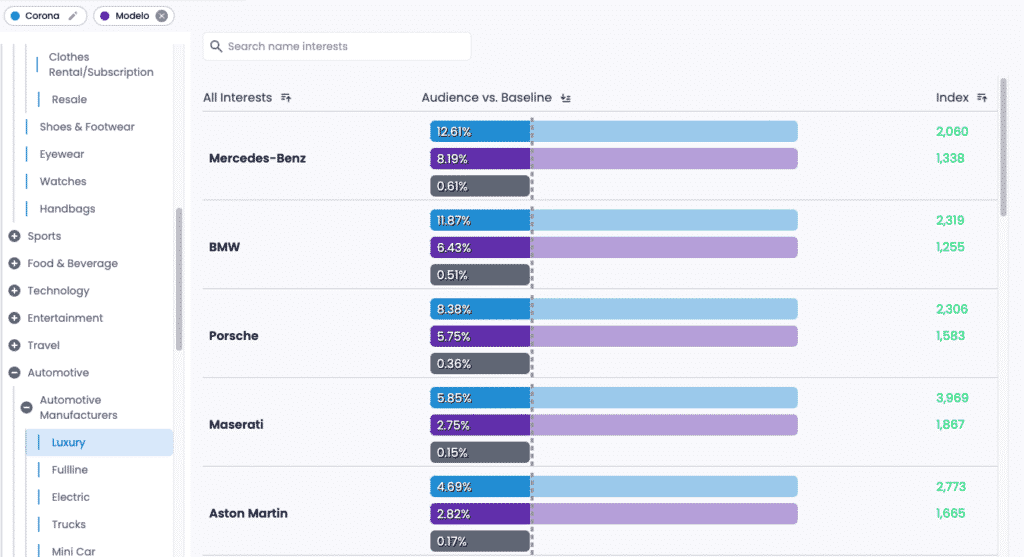 Qdoba vs. Chipotle
While fans of both Qdoba and Chipotle are pretty evenly spread out throughout the US, which of the two popular fast-casual Mexican restaurants you prefer reveals some interesting things about your personality.
Foodie or Footballer? Qdoba fans are bigger foodies and have affinities for TV chef personalities like Bobby Flay and Giada De Laurentis. They are also far more into food than their Chipotle counterparts, who tend towards more athletic pursuits like rugby, surfing, and boxing.



Jose Cuervo vs. Patrón
Nothing says Cinco de Mayo quite like a little tequila. So what are some similarities and differences between fans of the two leading Mexican tequila brands? The largest share of both audiences are in the 45-54 age demographic, proving that appreciation for flavor just improves with age.
As for the differences, Jose Cuervo fans are bigger foodies than Patrón, opting for a wide array of cuisine as well as more of an affinity for imbibing in adult beverages.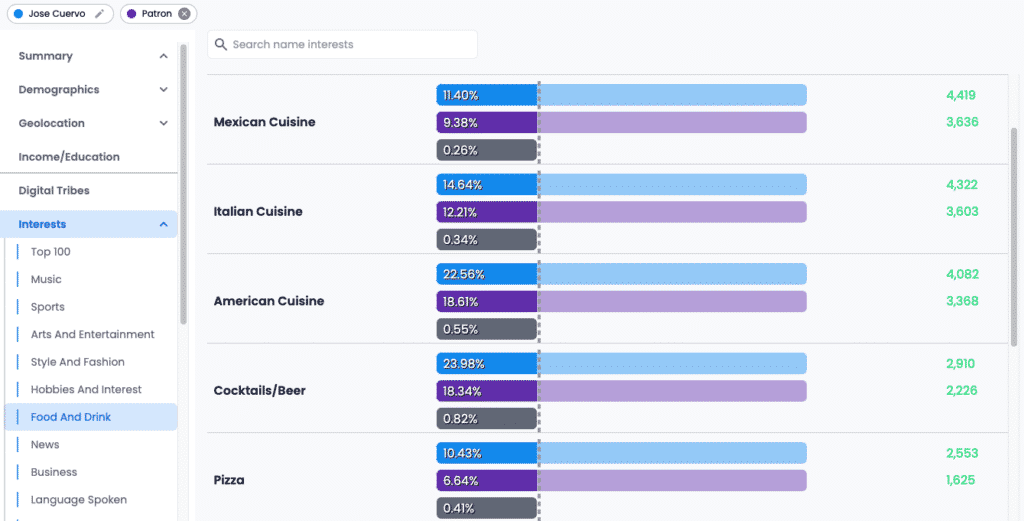 When it Comes to Audience Connections, Subtle Differences Matter
So there you have it, some really fun social audience insights for Cinco de Mayo. But more importantly for marketers, this analysis highlights how understanding key differences between audiences, no matter how subtle, is essential to building powerful connections with them.
Interested in learning how a world-class social audience insights platform can give you the holistic audience insights needed to create high-performing marketing campaigns? Let's chat.