There's no doubt that the subscription business model is here to stay. Nowadays, it's hard to find a brand not partaking in this form of customer loyalty that promises recurring revenue for the business and a regular service or product at the doorstep of the consumer. While subscription services have become even more popular and abundant in the 21st century, they're not a novel concept, dating back to the early 17th century. Some of the oldest subscription services have included newspaper and doorstep milk delivery in the late 1700s. Today, subscriptions range from digital streaming services to meal kits and curated clothing boxes. There is a subscription service tailored for every age, lifestyle, interest and budget.
With brands looking for regular revenue streams and consumers looking for convenience and the ability to try new products, there's no wonder why this business model has been used for centuries. The global subscription box industry alone was estimated to have an annual growth rate of nearly 18% between 2023-2028. So how can we better understand the individuals that buy into these subscriptions and fuel its market growth? It comes in the form of social audience insights.
Social audience insights uncover subscription affinities
Social audience insights, unlike social listening or monitoring, look at the individuals behind the conversations and engagements across major social channels to discover an individual's self-declared interests, passions, brand affinities, preferred media channels, trusted influencers and more. Marketers can leverage social audience data to identify specific audiences and then analyze their key interests and motivations. Using our Silhouette™ platform, we looked to discover which subscription services U.S. millennial women had the strongest affinities for. Here's what we found out:
The Top 10 Subscription Services Among U.S. Millennial Women
When looking at the social audiences across popular social channels including Instagram, Twitter, YouTube, and LinkedIn, we narrowed our audience to U.S.-based women between the ages of 25 and 40. Not too surprisingly, over 25% of women with high affinities toward subscription services reside in New York City, Chicago, San Francisco and Los Angeles. They also were more likely to hold careers in marketing and PR, creative services and management. So which subscription services rated highest among this group? Here are the top 10 brands that made the list.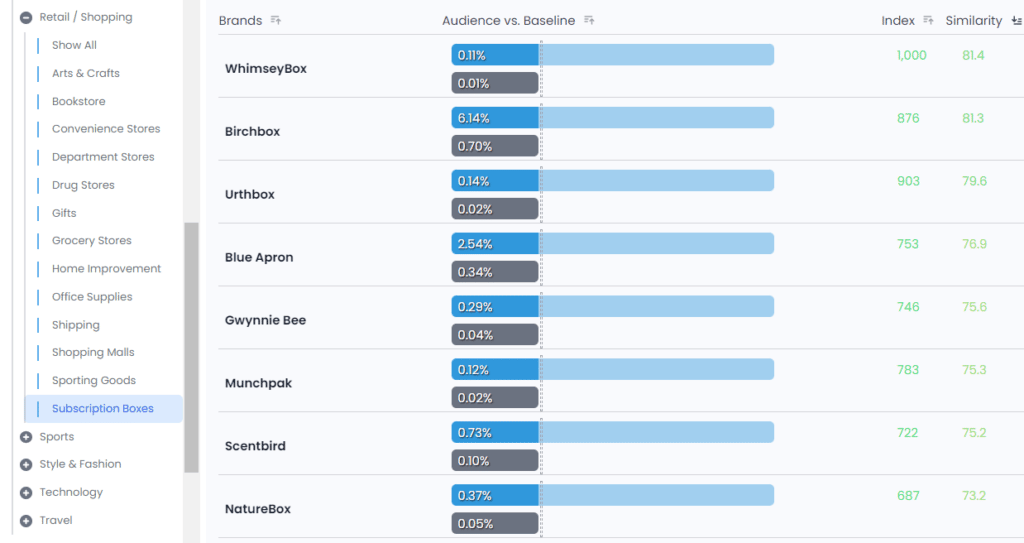 Notable subscription services that didn't make the top 10 but rated highly among millennial women included Glossy Box, HelloFresh and Allure Beauty Box. What we found among this generation of women, is they had a great affinity for fashion subscriptions compared to meal kits, beauty boxes and streaming services. But one thing in common with all these popular subscription services is they tend to offer more than one option at different price points, delivery frequencies and in some cases like beauty and fashion, give the option to purchase the full-size product or rental.
There's no doubt that subscription services are here to stay, so long as the consumers' need for convenience and desire to try new things continue.
Taking a closer look at the data: Access the full audience report in Silhouette
While we focused our attention on popular subscription services, there is so much more to glean about this audience. You can review the full report that includes this audience's:
Interests
Brand affinities
Favorite influencers
Preferred media channels
Career profiles
Personality traits
Demographics
Helpful definition to get the most from this report:
Audience vs. Baseline is a comparison of the U.S. millennial female audience to that of a baseline (control group), in this case the general U.S. female population.
Index is a quick comparison of how an audience reach compares to the baseline (or control group). For example, this audience of U.S. millennial females are 3.5x more likely to have an affinity for Rent the Runway compared to the general U.S. female population.
Similarity indicates how similar an audience is to that of another, on a percentile ranking scale of 1-100%. For example, Rent The Runway's audience and this audience of U.S. millennial females have a 99.2% similarity.
If you're looking to learn more about Silhouette and social audience insights, and how marketers across enterprise brands and agencies are creating custom audiences just like this one that they can then take action, let's chat!
Trunk Club and WhimseyBox still rate highly among this audience, but have since closed their doors and are not reflected on the list above.
The post has been updated since it was originally posted in May 2022.